Figure Tutorial
Grab the image for the tutorial here; http://forums.cgsociety.org/showthread.php?t=269454
Model Photograph 2.
*Please note that the cloth portion of the tutorial has not been completed.
To begin sketch the image either with traditional media or digital. I just did a very basic rough sketch in pencil and scanned it into Photoshop at 300 dpi. Create a new image. My canvas is 2000 x 1500. You can work smaller if you have to but it is alot easier to get in the finer details with a larger canvas. I changed the perspective of the photo to make it easier for me to sketch and paint.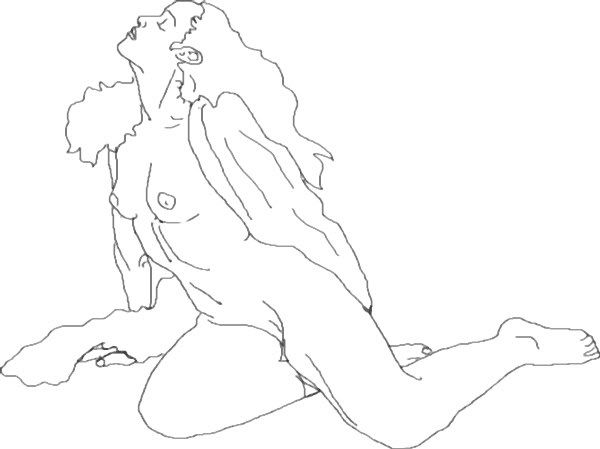 Time to make a quick background. Click on the background layer and floodfill it with black. Add a new layer and using the dropper tool grab a lighter color from the bg area of the photo. You can use another color if you want to. Paint randomly in the center of the background with a large soft brush. Then choose a lighter value of the same color and paint again in the center but a little smaller this time. Once that is done give the image a gaussian blur maxed out at 250. Nice bg but could use just a little texture. Make a new layer. Click on the floodfill tool and choose pattern from the menu on the toolbar. I chose the first pattern in the menu. Floodfill this new layer. Now go to filter/blur/motion blur and use these settings; angle 47, blur at 999 ok. Now blur with gaussian at 32.8 radius ok. Change the layer to soft light. Lower opacity if needed. It just gives a nice subtle texture. Turn off the outline and figure layers and merge visible.