Author : Kris Lee, author of the most downloaded free archi tutorial set on the web.
Software Used : 3DS Max 9
Compatibility : 7.8.9.2009.2010
Duration : 17 Parts, 3 Hours
BUY THIS NOW at 3D-Palace DVD and Commercial Download Shop!
A 3D-Palace original! This one of a kind DVD series will bring to you the entire interior modeling process from start to finish. No other set can promise the type of information given to you here in the 3D-Palace Architectural Modeling Series.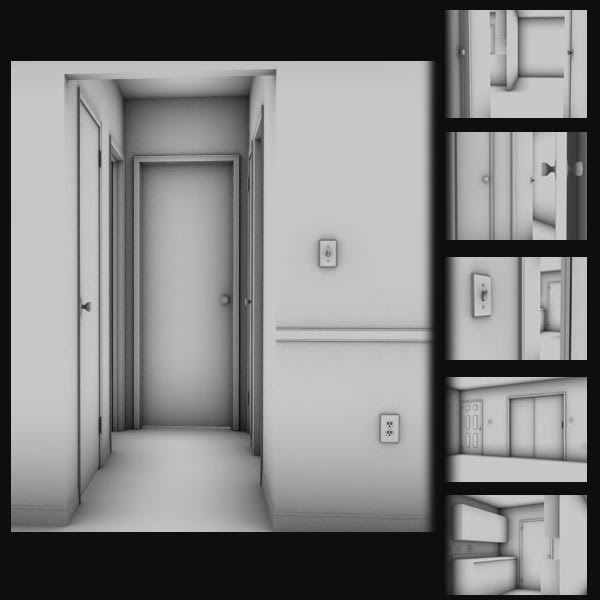 Are you tired of skimming through books hoping to match the pictures with your scene?
Are you tired of poorly written pdfs that leave you feeling like you missed something?
Are you tired of searching google for architectural tutorials but can only find a few?
Or are you simply tired of buying costly DVD training only to find that they show timelapse recordings or worse yet, pause half way through and show you the "finished outcome?"
Well this series is for you!
Over a span of 3-4 DVD's, this set will bring to you:
-A 5 room floor plan modeling from a cad file!
-Real working doors and windows. No Max prefabs here!
-Small details like electric outlets and light switches!
-Modeling each individual room from the kitchen to bathrooms!
-Texturing all the pieces in the rooms using texture maps and multisubobject materials!
-Lighting the entire interior using different types of lighting from ambient lighting, object based lighting from lamps and photometric lighting from track lights!
-Rendering the entire interior for use in your 3D galleries!
As it stands, DVD1 is available NOW! Take advantage of this early release! By the time you work your way through DVD1, the subsequent videos will be ready for you to proceed with. We decided to release them individually based on the needs of the consumers. Certain videos may be more important than others to some, therefore we will release them as they become available.
Enough of that for now, let's get to the foundation for which the series begins: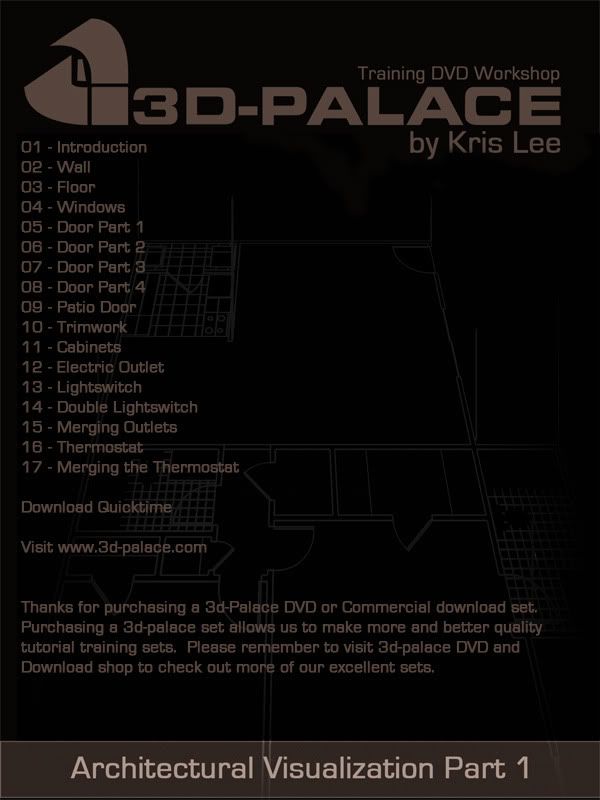 DVD 1: Modeling the Interior Structure from the Floor Up
This DVD brings you 17 tutorial videos covering all aspects of the interior process. Starting with importing a cad file, we model the apartment from it. From there, we extrude walls, build custom doors with hinges that actually open and close, custom windows that open and close, trim work, temporary cabinetry, intricate details like outlets, light switches and thermostats and more! This DVD will get you up and running and ready for DVD 2 where we will then go into each room and model the furniture!
Don't miss this exciting DVD and the wonderful series release DVDs that follow!
Enjoy this preview of this highly detailed and excellent set!
For any questions, contact Cris@3d-palace.com
---