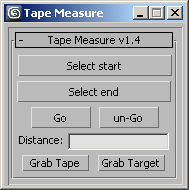 My little script to make measuring a little quicker and easier which can be found on Scriptspot https://www.scriptspot.com/3ds-max/scripts/tape-measure
and needs a little help from the gurus here.
If you click on un-go to remove the tape and reset the ui it works fine but it doesn't clear the information from max's memory so if you immediately click "Go" again it will re-make the tape in the same location even if the two objects being measured are deleted.
–How do I go about resetting this?

If you need to finesse the position the tape in the viewport what do I need to do to capture the changes in my edittext of the Tape Measure ui?
Thanks