Hello everybody!
I once was sort of a regular on CGtalk (the WIP-forum), but setting up my own company as a copywriter has used up all my time and energy these last 2 years, forcing me to set my more 'artistic' (or rather autistic:)) creativity aside.
Now that things have sorted themselves out a bit, I'm giving myself a big present by returning to drawing. I think this forum is a good place for me. Lately I've been documenting my life by keeping a 'journal' of superquick (gesture) drawings, along with short bits of text, which you will be spared:). A big revelation happened when I bought this journal/sketchbook and a 2 euro ink pen. I've discovered it gives me a lot of flow and I love to capture the 'mood' of a day in some loose drawings & thoughts.
I just spent a rare, lovely weekend in Paris with my parents and sister. This is my mum lying in the garden of the Louvre, 5 min. Underneath two gestures of appr. 1 minute each. The old lady worked out, the other not so much…
[left]A cop lays down the law on the square of Centre Pompidou, 2-3 min.:
[center]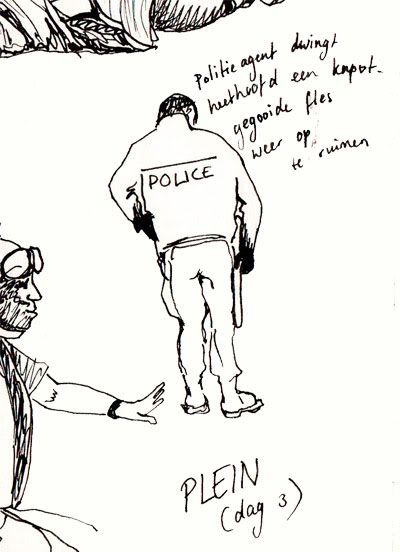 [left]Back in Holland on the train I see nothing interesting, so I draw my own leg, in app. 10 min. - ignore the text:):
[center]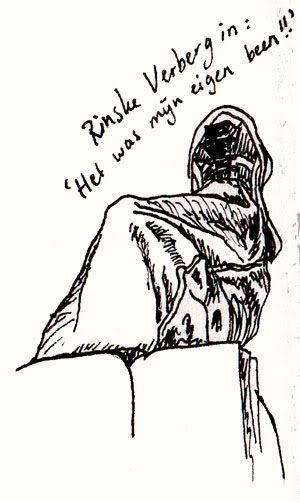 [left]In a cafe with my boyfriend on my left (it took like 3 times to 'capture' him! I guess people closest to you are the hardest:) (and he still looks a bit like a deranged clown here)), 10 min…
[center]
[left]…and our very good friend Anna on my right (with the light behind her), app. 5-10 min.
[center][center]
[left]Last but not least, if you happen to go to Paris soon, check out the Kandinsky-expo in the Centre Pompidou! It's simply amazing:).
Good night to all!
[/left]
[/center]
[/left]
[/center]
[/left]
[/center]
[/left]
[/center]
[/left]
[/center]