I just realized we really should have a sticky thread where people posted links to various custom Painter brushes availble for download on the internet. So, if you have some, or know URL's for some, post them here. [b]Try to only post brushes you have actually used and think are really good–not just any link you come across.
[/b]I'll kick off the thread with the latest version of my custom brushes (updated just today).

[http://www.ethereality.info/ethereality_website/goodies/goodies.htm](http://www.ethereality.info/ethereality_website/goodies/goodies.htm) (this link includes install instructions, download for the brushes..etc)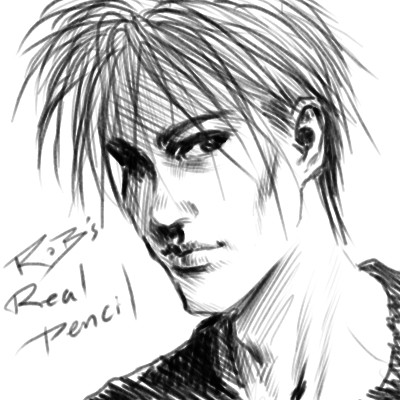 I wasn't happy with any of the pencil brushes that came with Painter, so I tried to design a brush that could come as close to a real pencil as possible. Although this is pretty good, I'm still trying to get that "shade with flat side of pencil" feature into it, so that tilting the tablet pen will be like tilting a real pencil.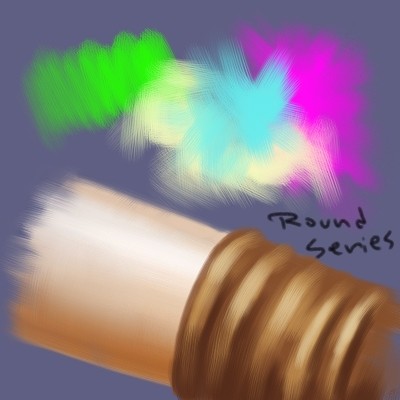 The Round Series of brushes (Painting Round and Blender Round series) are my workhorse brushes, as I do majority of my work with them. The Painting Round series gives me a lush bristled look, with great control in bleed and opacity, which allows very refined brushwork. The Blender Round series are basically the Painting Round series with the resaturation turned off, so I could have a set of various sized blending brushes easily accesible (I hate tweaking brushes on the fly, as I sometimes get distracted and end up playing with the brush controls instead of painting).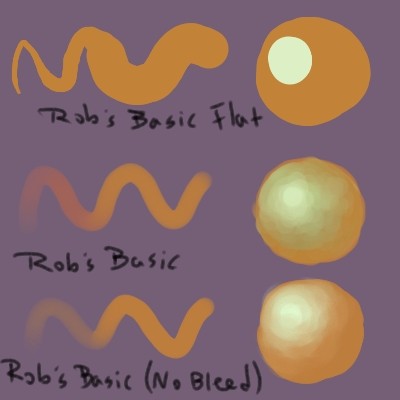 [left]I wanted a basic set of brushes that handled to my liking for simple blocking in of early stages, so I designed these three.
[/left]
[left]Rob's Basic Flat - Just flat color with no bleed or opacity sensitivity. You can control the size with pressure, that's it. Great for laying down flat areas of color, and having size sensitivity means you don't have to change brush sizes as often.
[/left]
[left]Rob's Basic - No size and opacity sensitivity, but have bleed and control sensitivity. Great for laying down rough values and color variations with blending in your brushstrokes.
[/left]
[left]Rob's Basic (No Bleed) - bleed and resaturation turned off, but Pressure sensitivity turned on. This essentially gives you a brush that's similar to Photoshop's brushes. The lack of blending gives you very pure colors to work with.
[/left]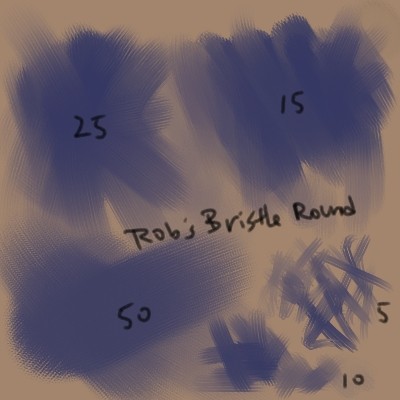 This is a captured bristle brush, and it's like the Round Series, except that I've made it to be even more lush/creamy in feel. As you can see, at smaller sizes, the limitation of a captured bristle shows. This brush is at best when set to at least size 10 or more. I have it on 15 as the default.