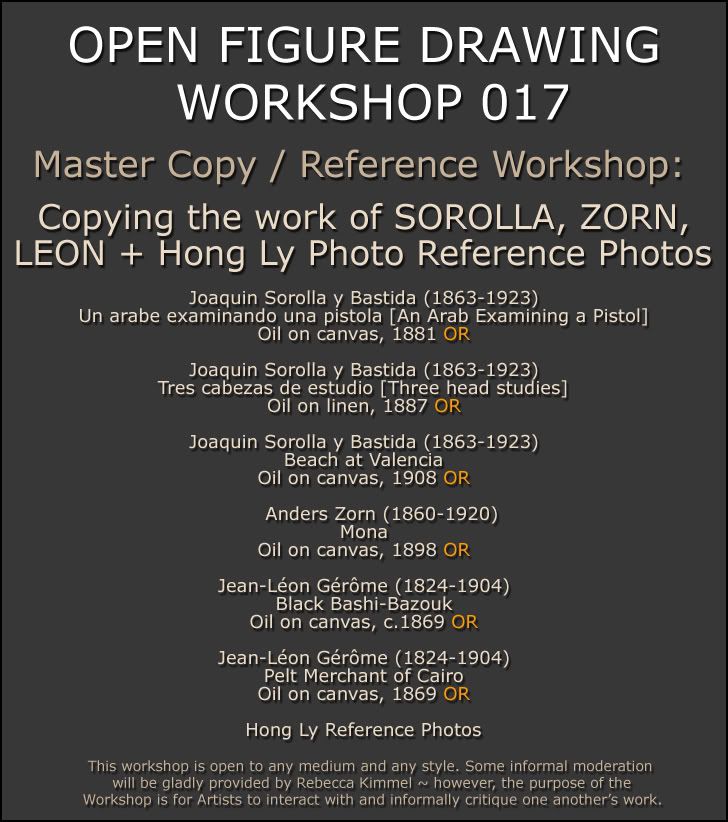 [left]          [left][center]                [center][img]http://i23.photobucket.com/albums/b380/rebeccak5/OFDW%20017/OFDW-017-Announce.jpg[/img]
                
                    
 [b]OFDW 017: May 21 - June 18th, 2006[/b]
 
 Welcome to the SEVENTEENTH thread of the Open Figure Drawing Workshop!!! 
                
                                        This workshop is open to any medium and any style. Some informal moderation 
                                             will be gladly provided by Rebecca Kimmel ~ however, the purpose of the
                                             Workshop is for Artists to interact with and informally critique one another's work.
                
                                                                                     [/center]
                                               Due to the popularity and outstanding success of the previous Master Copy Workshops, we will be continuing this week with another Master Copy Workshop! This week we will be working from a choice of 6 new Master Paintings by Sorolla, Zorn, Leon, and 2 Photographs courtesy of Hong Ly: 
                                        
                          Note: This Workshop will last 4 weeks. 

[color=LemonChiffon] Reference Sources:
www.artrenewal.org

Hong Ly Reference Photos can be found here:
www.characterdesigns.com
            [b]                      Choice 1: (See below for links)[/b]
                
                [size=2]Joaquin Sorolla y Bastida (1863-1923)
                Un arabe examinando una pistola [An Arab Examining a Pistol]
                Oil on canvas, 1881    
              
              [size=3][>>LINK 1<<](http://www.artrenewal.org/asp/database/image.asp?id=7418)  [>>LINK 2 (Same Reference as LINK 1)<<](http://i23.photobucket.com/albums/b380/rebeccak5/OFDW%20017/01_Sorolla_Un-arabe.jpg)
                
                [/size][/color][/size][b]Choice 2: (See below for links)[/b]
                [size=2]
                Joaquin Sorolla y Bastida (1863-1923)
                Tres cabezas de estudio [Three head studies]
                Oil on linen, 1887
              
              [/size][size=2][size=3][>>LINK 1<<](http://www.artrenewal.org/asp/database/image.asp?id=15320)  [>>LINK 2 (Same Reference as LINK 1)<<](http://i23.photobucket.com/albums/b380/rebeccak5/OFDW%20017/02_Sorolla_Tres-cabezas.jpg)[/size][/size]
              [size=2]  
                [/size][b]Choice 3: [/b][color=Orange][b](See below for links)[/b]
                               [/color][size=2]
                Joaquin Sorolla y Bastida (1863-1923)
                Beach at Valencia
                Oil on canvas, 1908
              
              [/size][size=2][size=3][>>LINK 1<<](http://www.artrenewal.org/asp/database/image.asp?id=29102)  [>>LINK 2 (Same Reference as LINK 1)<<](http://i23.photobucket.com/albums/b380/rebeccak5/OFDW%20017/03_Sorolla_Beach.jpg)[/size][/size]
              [size=2]  
                [/size][b]Choice 4: (See below for links)[/b]
                [size=2]
                Anders Zorn (1860-1920)
                Mona
                Oil on canvas, 1898
              
              [/size][size=2][size=3][>>LINK 1<<](http://www.artrenewal.org/asp/database/image.asp?id=7392)  [>>LINK 2 (Same Reference as LINK 1)<<](http://i23.photobucket.com/albums/b380/rebeccak5/OFDW%20017/04_Zorn_Mona.jpg)[/size][/size]
              [size=2]  
                [/size][b]Choice 5: (See below for links)[/b]
                
                [size=2]Jean-Léon Gérôme (1824-1904)
                Black Bashi-Bazouk
                Oil on canvas, c.1869
              
              [/size][size=2][size=3][>>LINK 1<<](http://www.artrenewal.org/asp/database/image.asp?id=126)  [>>LINK 2 (Same Reference as LINK 1)<< (Updated - Larger)](http://www.artunframed.com/images/newart/Black_Bashi-Bazouk.jpg) thanks to hiiri for the link![/size][/size]
              [size=2]  
                [/size][b] Choice 6: (See below for links)[/b]
                [size=2]
                Jean-Léon Gérôme (1824-1904)
                Pelt Merchant of Cairo
                Oil on canvas, 1869
              
              [/size][size=2][size=3][>>LINK 1<<](http://www.artrenewal.com/asp/database/image.asp?id=89&hires=1)  [>>LINK 2 (Same Reference as LINK 1)<<](http://i23.photobucket.com/albums/b380/rebeccak5/OFDW%20017/06_Leon_Pelt-Merchant.jpg)[/size][/size]
                
                [b]Choice 7: [/b][color=Orange][b](See below for links)
         
         [/b][/color][size=2]Hong Ly Reference Photo 1 - Female Nude:[/size]
              
              [[size=2][size=3]>>LINK<<[/size][/size]](http://i23.photobucket.com/albums/b380/rebeccak5/OFDW%20017/07_Hong-Ly-Photo.jpg)[size=2][size=3] [/size][/size]
                 
                 [b]Choice 8: (See below for links)
         
         [/b][size=2]Hong Ly Reference Photo 2 - Female Nude:[/size]
                
                [[size=2][size=3]>>LINK<<[/size][/size][size=2][size=3] [/size][/size]](http://i23.photobucket.com/albums/b380/rebeccak5/OFDW%20017/08_Hong-Ly-Photo2.jpg)
           
           ~~~
                                                               [u]
           [color=LemonChiffon][b]RULES FOR THE THREADS[/b][/u][/color]
                                                                
                                        [/left]
                                        [/center]
                                                                                                             
                                                                                [left]1. Photographs are the property of [www.artrenewal.org](http://www.artrenewal.org) and [www.characterdesigns.com](http://www.characterdesigns.com).
                
                                                                 2. The drawings created from the photo reference provided here MUST be TASTEFUL,SINCERE, RESPECTFUL, and for the purpose of serious study of the human figure. Those who post silly, disrespectful, or tasteless work will have their posts deleted immediately and will no longer be allowed to post on this thread. Rebecca Kimmel reserves the right to determine which drawings are considered to be in poor taste and / or disrespectful to the Reference used here in the OFDWs. There is NO TIME LIMIT for posting on this thread. 
                
                 3. Typically, new threads containing new photographs will be posted on a bi-weekly basis ~ however, for this Workshop, 4 weeks will be allowed before the next OFDW. 
                
                         4. There is NO LIMIT to the NUMBER of posts an artist may make. However, we ask that you post only your BEST WORK, even if it is considered unfinished.
                
                         5. Artists who post comments and critiques of other artists' work on this thread must be RESPECTFUL, POLITE, and offer CONSTRUCTIVE CRITICISM. Flaming will be NOT be tolerated, and constitutes dismissal from this and other threads.
                
                 6. I will be offering the occasional comments / critique ~ however, the main focus of the Open Figure Drawing Workshop threads should be on Group Critique and interaction. :)
                
                         7. ANY MEDIUM or STYLE may be used: Traditional or Digital Drawing or Painting, Gestural, Sketch, Finished Render, etc.
                
                         8. EDIT: 3D Artists who wish to use the reference for 3D models are free to do so. I just ask that you post your work here as well as in any 3D forum in which you post your work.
                
                         9. Please limit the SIZE of your POSTS to 800 pixels WIDTH x Appropriate pixel LENGTH. No huge posts, please!
                
                                                       10. Have fun, enjoy, and create great art! :) 
                                                                                                                                                                                                                                                                                                                   [/left]
                                                                                   
                       ~~~
                
                              [size=3]PLEASE NOTE: WIP (Work In Progress) images are an important part of the OFDWs and are encouraged. [color=LemonChiffon][b]Please DO post WIP[/b] images as you work on your pieces. :)
                      
                      [/color][/size][i][size=2]    PLEASE NOTE[/i] THAT ANY USE OF PAINTINGS WHICH ARE RELIGIOUS IN NATURE IS IN NO WAY AN ENDORSEMENT OF RELIGION OF ANY KIND.
     
     [b][size=3][color=Orange]PLEASE NOTE THAT TRACING IS NOT ALLOWED! 
    Tracing constitutes cheating on CGTalk, and traced work is not accepted into CGTalk's Galleries. Please freehand draw and paint. Use of a Grid is accepted. :)
  
  EDIT: Please be sure to check out the best work from OFDW 016!
  
  [>>SPOTLIGHT: Best of OFDW 016<<](http://forums.cgsociety.org/showthread.php?p=3565451#post3565451)
  [http://forums.cgsociety.org/showthread.php?p=3565451#post3565451](http://forums.cgsociety.org/showthread.php?p=3565451#post3565451)
  
    [/b] [/size][/color][/size][u]                        
                                                                               [/u]                                                             [left]Good luck! :)
                                                                               [/left]
                                                                               
                                                                                   
                                                                                   ~Rebeccak[/left]