Lately there were a few posts here about how to achieve a native 3dsmax look for .NET controls.
.NET controls offer much more flexibility than the native MAXScript UI elements, but they often look like strangers in 3dsmax, and don't always work as expected.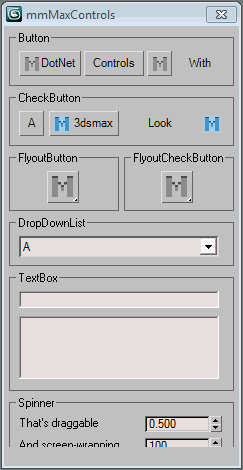 I've compiled a library of some common controls that should help bridge that gap. They automatically update according to the 3dsmax UI colors, and self-manage EnableAccelerators.
Also, included are FlyoutButton and FlyoutCheckbutton, for which there is no MAXScript alternative, but are part of the 3dsmax UI.
Check it out here