Its been said on some websites that the pictures from mars are not as red in real life as NASA wants them to be. It sems as though picture from mars have been photo edited to contain more red and less blue. Why this was done remains a mystery but it seems like Nasa wants Mars to have a red image.
This is the picture of mars translated back. Although not entirely accurate because the green information has been lost in the color correction.

Proof of this lies in the sundail seen on the mars photo's and reference pics taken on earth.
Here's the sundail from mars as seen on earth.

Here the same sundail on mars, strangely missing any trace of blue.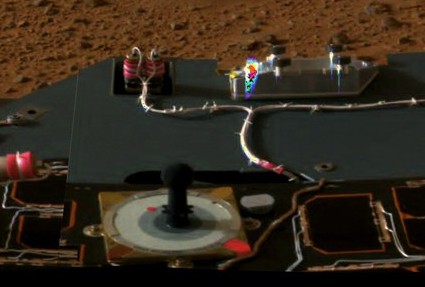 Link to the story in dutch (in dutch) - Crummy Translation in english
http://frontpage.fok.nl/news.fok?id=36985
Another website claimed the same during the last mars misson when pictures from mars were send to earth. This is their site.
http://www.enterprisemission.com/colors.htm
I dont know how much of this is true, but it remains an interesting case.