Title: Logitech Z-5500 Speaker System
Name: Kyle Dumigan
Country: United Kingdom
Software: 3ds max, Photoshop, VRay
Hey all,
Finally managed to get the first front render finished!
I hope you like it!!! I'm finally happy with it!
Theres a 1680x1050 version here: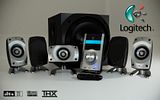 and a double size (original render size) at 3360x2100 here:

I'm now rendering out a back render, where a lot of the detail also lies, which will be in my portfolio in the next few days
Thanks everyone for the help in my WIP section in this forum:
http://forums.cgsociety.org/showthread.php?f=43&t=627583
All comments were greatly appreciated, and I hope to have another project up here shortly
Thanks again!

Kage06