This is an old challenge now, this thread is archived. If you scroll down to the Challenge #9 section of the downloads page, you'll see that the models can still be downloaded for your tests, and also that a gallery has been made of top entries. Feel free to browse this thread to see what others have posted, even though you can no longer post here.
Lighting Challenge #9 is on-line!
The main challenge here is that a truck is moving through an environment lit by neon signs and flourescent tubes and light bulbs, and of course the truck itself has headlights and taillights. This is a bigger, more complex scene than some of the lighting challenges.
  Here's  an image that JCBug posted on page 12 of this thread:

Here's a picture that YamYam posted on page 12: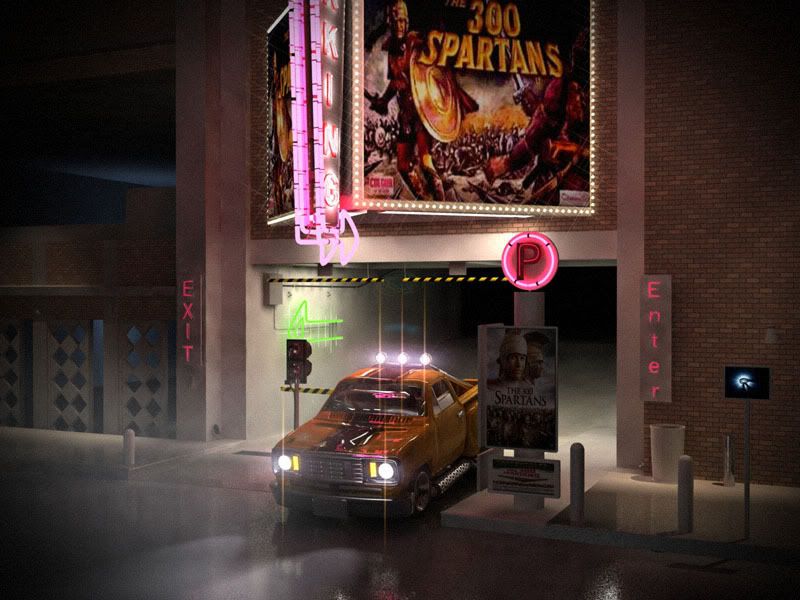 Here's a picture that Pane posted on page 13:

Here's an image that HamburgerTrain posted on Page 13:


[/edit]
  This scene was modeled by Christophe Desse and Matthew Thain. Christophe requests that the truck he modeled only be used for non-commercial purposes. Please credit the modelers if you use your renderings on your web pages or demo reels.
  
  [img]http://www.3drender.com/challenges/neonandchrome/78dodge1.jpg[/img]
  This is an image of the truck he modeled, as rendered by Christophe Desse.
  
  Download the scene files here:
  
  [http://www.3drender.com/challenges/](http://www.3drender.com/challenges/)


  MIRROR

  All shading and rendering techniques are fine, as long as the scene is lit in 3D. Modeling changes are OK, including hiding or deleting objects, adding other cars, animating the scene, etc.  Matthew Thain carefully modeled the parking garage to appear detailed around the entrance area; other parts of the garage are not as detailed.
  
  -jeremy