Title: Flying Dutchman
Name: Z. Lynda Bathory
Country: Canada
Software: Maya, Photoshop
Flying Dutchman
Photoshop Painting with Maya Model
February 2009
Original size: 3000 x 4500 pixels
Entered for the Steampunk Challenge
I have always found the tale of this damned ship to be very sorrowful. As a steampunk version, I wanted to create an air ship that echoed the tall ships from the legend, and so I added the inverted "masts" to the underside of the gondola.
As I was researching my subject, I came across a description of the Dutchman on a website that intrigued me:
"A strange red light as of a phantom ship all aglow, in the midst of which light the mast, spars and sails of a brig 200 yards distant stood out in strong relief."
I chose to create my Dutchman in copper because of this reference to a "red glow" for the ship. I wanted to give a more plausible explanation for the myth's description of color for the Steampunk style. I created a basic model with Maya to get general shading and reflection of the metal. Painting the rich colors of oxidized copper in Photoshop and adding a ghostly red atmospheric glow to enhance it. In addition, red running lights and the engine room on fire give more layers to the overall color impression of this description. And while this tale is sorrowful enough, I chose to add the shipwrecked crew to punctuate the idea that there are far more terrible fates than death as the ghost crew is doomed to roam forever in an aging, corroding, and burning ship. The pitiful shipwrecked crew is hoping for rescue unaware of what fate awaits them.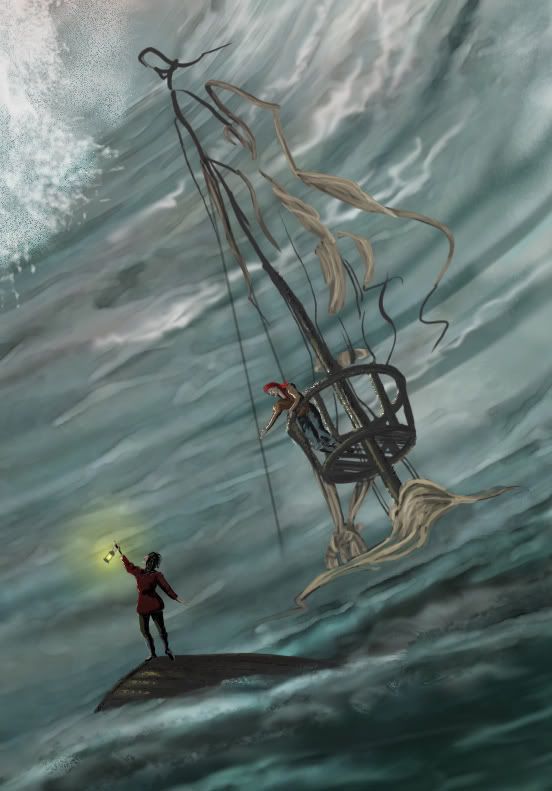 Originally entered in the Steampunk Challenge, I have made some slight alterations to the entry. The bolts on the airship seams were not complete and I decided to change the lights on the starboard side to green.
I would also like to share a detail view of the gondola and the ghost crew:
Since this painting was based on a Maya reference model, here is how this painting started: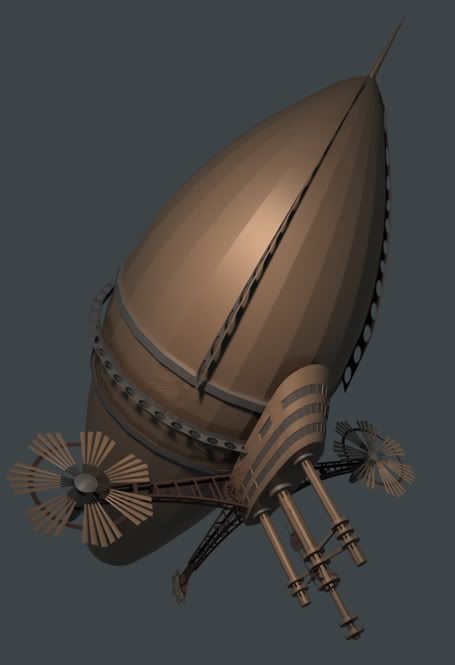 Comments and critiques most welcome.