Concept Art: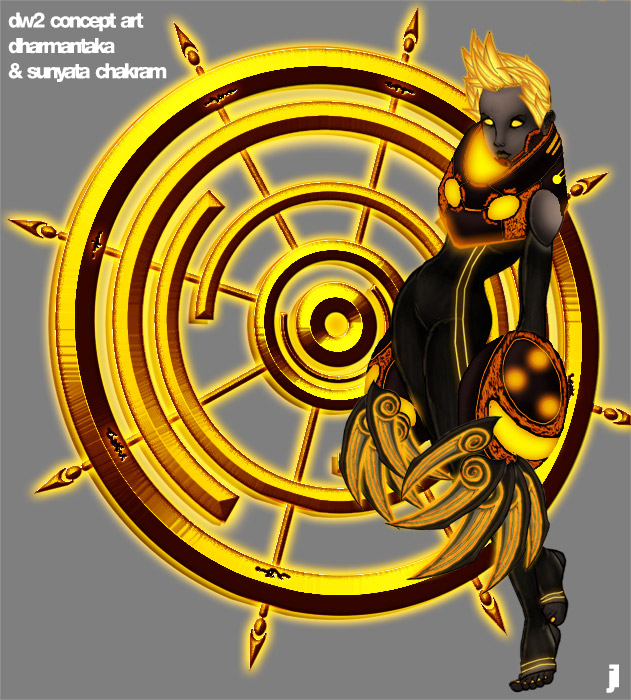 ---
Character Info:
Dharmantaka Shadow
'destroyer of gods'
An order of monks, the ancients have brought peace to their worlds and created utopian societies. The monks, having outlived their usefulness were put into a dormant state. But after provocation, they've awakened & it's war. But the monks themselves are peaceful & could never personally harm another living being. That's why they outsource their first offensive effort to a race they dubbed the 'Dharmantaka.'
Coming from a harsh volcanic climate, the Dharmantaka have a physiology to match. Their core body temperatures match that of magma, their blood molten. Their shape is very similar to a humans, however they tend to be a bit lankier & their hands are gnarled into huge prehensile claws. While carbon based, their skin, the sheen of gun metal black is as dense as carbon nanotubes, their hides some of the strongest known organic materials in the universe. However, their lives are generally short & agonizing. With such an extreme body temperature, even their strong exteriors eventually break down & each Dharmantaka begins to burn out. Some carve holes in their own flesh to expose their molten interiors to the air & vent some of the heat, however this is just seen as delaying the inevitable. However when the monks converted these creatures, they saw a special niche for them in their hierarchy. That of steath & kamikaze missions.
Though their interiors cast a bit of orange glow, the Dharmantaka's naturally black skin is perfect for melding with shadows. Their claws, both diamond-hard & superheated can penetrate nearly any material. They assist Dharmantaka in both scaling & moving along walls, but also In combat situations. Their natural agility & speed makes them incredibly dangerous adversaries, while their impenetrable skin is invulnerable to convential weaponry. And on the very unlikely chance that something does break Dharmantaka skin, their blood is molten & can cause collateral damage. The monks give the each Dharmantaka shadow body armor that can not only provide light shielding for energy attacks but also regulate their body temperatures. Also too, their armor relays information back to the Monks instanteously, for recon & scouting missions.
In some cases, such as this one, the monks will grant a Dharmantaka a weapon they call a 'Sunyata Chakram'. A large disc shaped object, the chakram can serve many uses. Firstly, the Dharmantaka never actually has to even touch the chakram. It levitates on its own & moves through either the mental control of the Dharmantaka or through the limited control of the Monks watching the mission unfold. It has three distinct forms. One is as a rudementary mode of transport or levitation. The Dharmantaka can hop or hold on & avoid capture or flee if the situation warrants it. The second mode is as a ranged weapon & it can be used in two ways. Firstly the spinning chakram can fly around a battlefield like a discus & use its energy to dispatch enemies as such. Or the spinning elements inside the chakram can generate energy fields & fire concussive energy beams, distingrating any obstacles. However, the reasom many fear the Sunyata Chakram is its third mode. It can be brought to a location & 'set' much like explosives. However, instead of a blast, the whirling parts of the chakram start to draw inward & create an event horizon. As these forces increase, the chakram itself disappears & in its place is a black hole, capable of destroying as much as the monks wish it to.
Of course usually, the Dharmantaka that plants the chakram is usually one of the first to go, however their demise is quick & painless, as opposed to the agonizing slow decay of their physical bodies. And it is this reason that many Dharmantaka are eager to enlist. And why they are perfect for the job.
---
[Also, please note that if you're coming from the dominance war entry page, that it says my name is kurocrash on there. i goofed & didn't think when i created a login there but…
ill_logic=kurocrash=me!
sorry for the confusion!]
-J