Hello everybody…
I recently switched from using 3D Max to using Maya while i'm doing a year abroad at school (design/architecture). So far I have really been loving Maya, especially with regards to modelling, NURBS is particularly awesome in Maya.
However I have run in to a couple of modelling issues where I find myself missing some of the old and easy to use Max tools and modifiers. Since I work mostly with architecture and design something I often need to do is add thickness to walls, casings, sheet-metals etc. With 3D max this was done relativly simply by adding the Shell modifier (which also provides you with easy shading due to material ID's for back, front and side parts). In Maya I have basically either been offsetting the surface (if it's Nurbs) or selected all faces and extruded in the normal direction (for poly's). However extruding the faces in this manner does not equal a uniform extrusion unless the mesh is faily dense and/or planer (because it extrudes in a per face normal). Here is an example :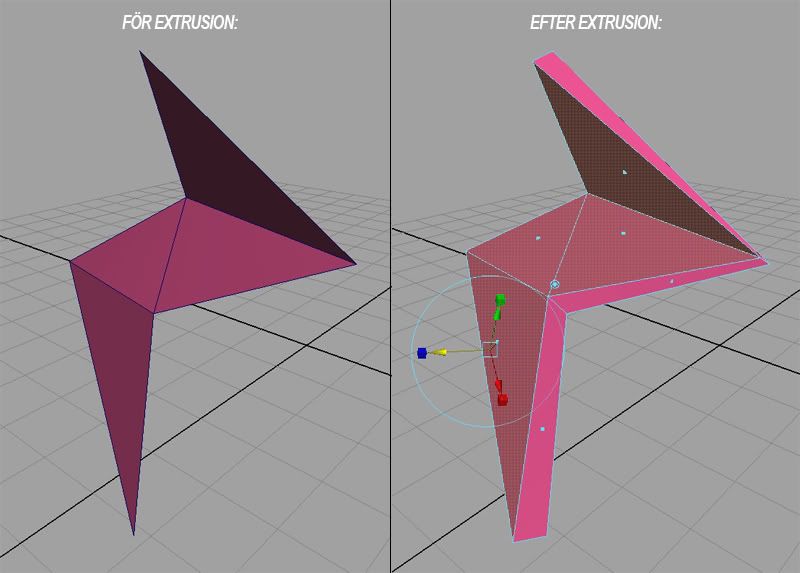 (The text says before extrusion and after extrusion, in Danish
)
Of course the other option is to stick with Nurbs (offset the surface and loft between the two for thickness), however this is kind of a hassle and creating a nice fillet/chamfer on the edges where the surfaces meet is super tricky with Nurbs (in my experience any way, if you have a good technique please let me know).
Another modelling issue i've been banging my head on is creating sections for say floor slabs etc. In 3D Max there is a tool that let's you generate a spline section through any geometry by basically placing a plane where you want the section and hitting go. Then you can take the spline section and extrude it or add the shell modifier for thickness. All fairly easy and straight forward! Something like this would be super useful for my Maya work-flow?
I'm sure that Maya is more than capable of doing both these things (so far one of the things that has impressed me the most about Maya is exactly it's flexibility), so please help me out and enlighten me. It would be greatly appriciated