Background: After not opening Max for seven months, I decided I needed to get back into the scene or risk falling behind professionally. I figure by creating a work-in-progress thread and updating it in my spare time, I could work on a character that would result in something I could place in my demo reel.
ARSINOITHERIUM
Type: Prehistoric mammal
Size: 1.8m high at the shoulder
Diet: Herbivore
Lived: Late Eocene and early Oligocene, from 36 to 30 million years ago in what is now Ethiopia
Arsinoitherium's most distinctive feature was the two large horns on their snouts. The horns were hollow and possibly used to produce loud mating calls as well as to compete with rival males. Arsinoitherium was a hefty creature with thick, hairless skin resembling elephant hide.
Arsinoitherium was very selective in the types of fruit and leaves it ate. Its size meant it had to eat a lot of food - it probably spent much of its day chewing on something.
Arsinoitherium lived in small groups and would have been in the water most of the time. It couldn't straighten its legs, suggesting they were better for wading and swimming than for walking. Its large size kept it safe from most predators, although creodonts might tackle a young Arsinoitherium.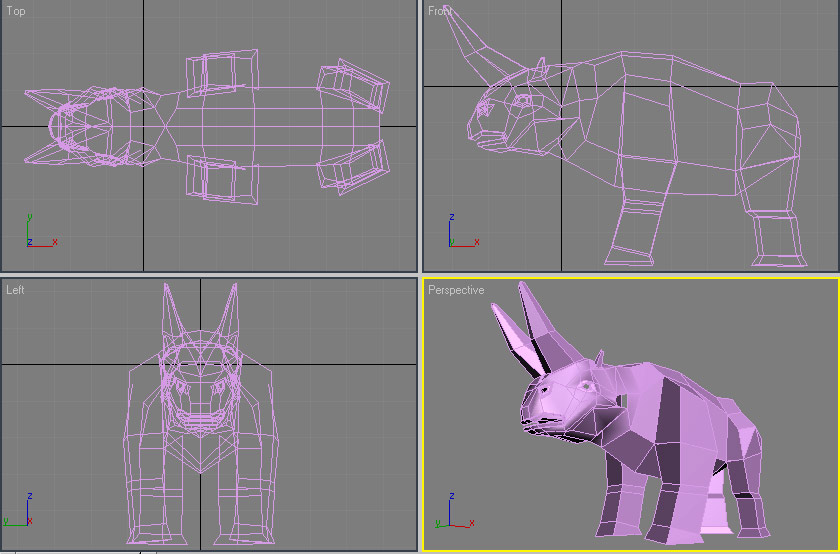 Not much more than a box with legs at the moment. My references for this animal are quite old, so I'm basically going off a skeleton and hope to texture and animate it using a rhinoceras for reference.