CLICK ON THIS THREAD:
Queen of the Rocketmen: Post here those who are looking for partners/teams
And dont forget to check out our MODEL LIBRARY
[size=2]CgTalk:FXWars! QUEEN OF THE ROCKETMEN[/size]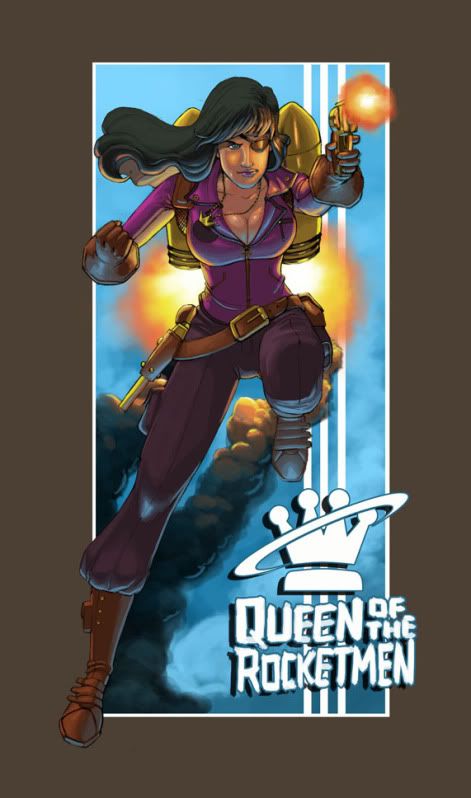 Concetp art by
Gary Eugene Bedell II
THE CHALLENGE:
Imagine you have been comissioned to do a intro cinematic based on the aviation world of the 1930
A world of danger advanture, air pirates, zepellins and crazy air machines… (similar to the Indiana Jones universe, but where Jet packs, giant air machines and robot hechmen are a reality)
Join us as the Queen of the Rocketmen and her band of merry men fight the evil air pirates in the air above the South Pacific.
Color palette:Good Guys (Light browm, Gold)
Bad guys (Black, dark blue, Purple Silver)
The entry with the most creative sequence will be selected by an open vote. The winner will get bragging rights and a small banner designed by me.
DATELINE:
Monday December 2 12:00 PM
(You have TWO MONTHs to do the challenge.)
TYPES OF ENTRY:
You may do one of these types of entries:
[ul]
[li]SINGLE SHOT Entry[/li][/ul]
[indent]
Imagine a single shot from an adventure movie.
It can be something as simple as an airship blowing up.
[/indent]
[ul]
[li]FULL SEQUENCE Entry[/li][/ul]
[indent]Imagine a movie trailer or a a game intro…
[/indent]
Both types are
Freeform
[ul]
[li]You may use the provided models (and models you submit) to create an entry. The core requirement for this type of entry is to have fun.[/li][li]You can do it as simple or as complex as you wish. [/li]
For examples You can do shots with character animation
OR
shot that only have vehicles and airships on them
like Blimps takng off a secret base or Airships coming down in flames…
[li]For ideas you may want to check the provided concept art, models & Storyboards for story ideas (and if you use one of their story ideas you have to give credit to the creator of the asset) [/li]
But keep in mind the key thing that I expect to see in all entries is pure creativity and good storytelling.
[/ul]Before it gets posted: We will do a more "normal" challenge AFTER this one
CHALLENGE SPECIFIC RULES:
[ul]
[li]No work taken DIRECTLY from an existing tutorial. You may use an existing tutorial only for reference.[/li][li]You may use a pre existing model(or use any of the models provived) , as long as you give credit to the creator. If you cant model, use simple shapes, since we are interested in the simulation. (But teams are encouraged, and if you are a modeler, you can make your model available)[/li][li]You may provide a heavily edited animation with all the trimmings (hell add live action if you want), as long a you provide another PLAIN animation of a side view of the working ANIMATION of the vehicle .[/li][/ul][u][color=white]Voting:[/u]
[i][b][/i]NEW RULE! The best single shot/sequence will be selected by an open vote. [/b][/color]
[ul]
[li]BEST ANIMATION[/li][/ul]The winner will get bragging rights and a small banner
designed by me.
________________________________________
GENERAL RULES:
[ul]
[li]The animation and simulations (if any) must have been done AFTER the topic has been announced.[/li][li]WIP are encouraged if they are posted in ANOTHER thread. Please provide a link to them on this thread.[/li][li]WIP thread should be posted on the FXWARS Forum forum and should follow[/li]the following naming convention: FXWars! QUEEN OF HE ROCKETMEN!: MY NAME, Entry,Movie Title(Note: Group entries are allowed)
[li]It is Recommended that Final movies should be rendered at 320 x 240 or 640 x 480 in QuickTime* format (Sorenson Compression), but other resolutions and formats are allowed. * (The animation format is open for discussion.)[/li][li]The animation should follow the following naming convention:[/li]MYNAME_FXWARS(RESOLUTION).mov. And please add your name at the beginning and end of the animation, and if you can, also add a small non disruptive watermark during the animation.
[li]If for some reason, you can't host movies, sequential images (Thumbnails size 160 x 120 ) are accepted.[/li][li]Please add a brief text description about your piece.[/li][li]The artist also has to post total length of time it took and program used.[/li][li]Collaborative pieces are accepted and encouraged, but Teams entries must have a identifying banner and a name. Shot lists should be included with the entry.[/li][li]Individuals participating in a team CAN have their own individual entries.[/li][li]Post on this thread your link to your WIP thread and your FINAL piece.[/li][li]You can add multiple entries, as long as they have different WIP threads.[/li][li]Freelancers CAN participate in more than ONE entry[/li][li]All Teams members & Freelancers will get screen credit for in the title cards for participation[/li][li]Only participants who follow the rules and submit a final entry will be elegible for the voting process.[/li][li]The moderators reserve the right to taken down any thread[/li][/ul]GoodLuck
REFERENCE:
Here is a small sampler of the reference we have gathered:
for more please go here:
QUEEN OF THE ROCKETMEN: Video & Photo Reference (link)
[ul]
[li]http://en.wikipedia.org/wiki/Biplane[/li][li]http://en.wikipedia.org/wiki/Airship[/li][li]http://en.wikipedia.org/wiki/Zeppelin[/li][li]http://en.wikipedia.org/wiki/Balloon_(aircraft[/li][li]http://en.wikipedia.org/wiki/Ford_Trimotor[/li][/ul]Here are more clips for inspiration:
[ul]
[li]http://www.youtube.com/watch?v=DRavD_AB8aA[/li][li]http://www.youtube.com/watch?v=Mq9D…feature=related[/li][/ul]and the real deal:
[ul]
[li]http://www.youtube.com/watch?v=P-oQ–U-WaQ&feature=related[/li][/ul]-R