Title: Arctic-tropical
Name: Arnas Gaudutis
Country: Lithuania
Software: 3ds max, Photoshop, VRay
Hello everyone!
This one was devoted to spectacular challenge…
There lived an escimos in a distant lands of arctic ocean, who traveled across hunting polar foxes and looking for food. They lived in their small world with no civilization : no tv, electricity, and other stuff. They were born on ice, and never heared about other world's places.
Once a group of escimo hunters traveled across snow-deserts, and they have found a neglected, congealed ship. They have found alot useful stuff they could use in their mode of life : cups, scoops, pots. But one thing they found was the most spectacular they have ever saw - pictures of other world's places, with no snow, no ice, just clear water, yellow sand and palms covered beaches.
They were surprised and excited with a such beautiful views. But they knew that they will never get there. And then one escimo decided to realise these pictures - he started to sculpt these views from ice, after that more escimos joined him. They have sculpted whole island with palms and other stuff. They just wanted to have these spectacular places so they could visit it any time they wanted.
Thats my story
what a spectacular things can human make having so great desires even if it is so temporary and senseless.
A grayscale version… dont know why but I liked it…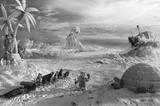 Hope you will enjoy!