Hi,
Looks like there are other threads on this topic peppering the forum, though not on quite the same issue. I'm also trying to reorder my blend shape nodes in my model's input window. I have about half a dozen blend shapes that are at the bottom of the list, and a "Blend Shape (parallelBlender)" node located at the top. I assume this was created when I chose the "parallel" option in Deformation Order when creating the blend shapes. I'm getting problems with my geometry not moving with the skeleton when blend shapes are active, and I believed it to be from deformation order.
I try moving the top Blend Shape node below the Tweak nodes, and it disappears along with all the other blend shape nodes. The blend shapes are still visible in the Blend Shape window, but nothing happens to the geometry when I move the sliders now.
Below are pics of the original deformation order, then when I try to move the top node below the Tweaks. (I also tried just moving the top node below the cMuscle System node, but the geo would freak out whenever I moved the skeleton.)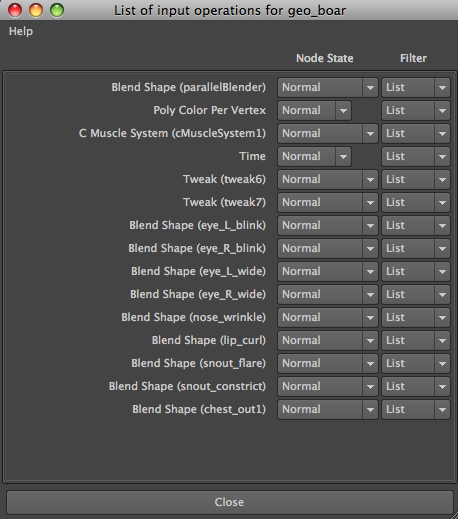 Thanks in advance!
Mara