I'm working on a way to use the UV mapping information for regularly distributing objects on a poly surface, independently of the underlying triangulation/segments.
I'm having success, as long as I use the original mapping information, generated by 3dsmax, when creating the objects.
But as soon as I use the "UVW Map" modifier, things no longer work, because the mapping is different. For example, with a plane primitive, the UV map is a planar projection going from U=0..1 and V=0..1. W is always zero. (As I expect it, with planar projection).
When I put a new planar UVW map on top, then it's no longer as expected, but there are also W coordinates involved. I'm converting the UV coordinates to barycentric coordinates, so I have no clue what to do with those W coordinates, and why they are here in the first place.
When using the mapping for a bitmap, both versions look the same of course. What I'm trying to achieve is nothing different than projecting a bitmap. (Grid of pixels vs grid of world coordinates)
There are many old threads where people looked for that functionality and gave up. I'm happy that I got it working to some degree, but it would be cool if it also worked with the "UVW Map" modifier.
I'd be happy for any input.
Box with standard mapping: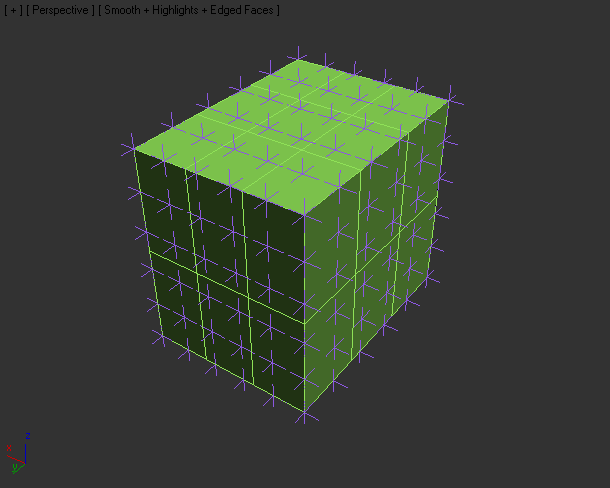 Box with standard mapping, slightly rotated by UVW Xform modifier...result as expected: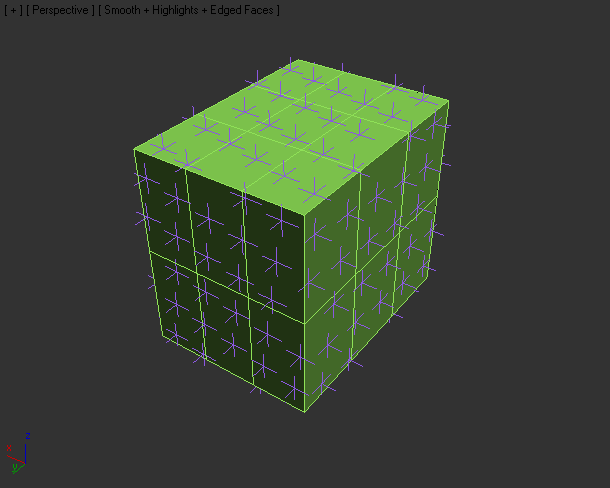 UVW Map modifier on top with box projection. Should be the same as the first pic? But it's not what I'm expecting and I don't understand what's going on here...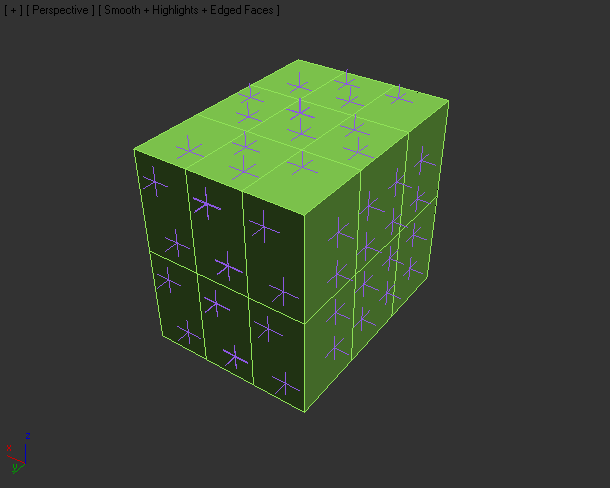 Code:

(
	delete $Point*

	local meshObj = snapShotAsMesh $
	local theChannel=1
	
	local stepsU=5 as Double 
	local stepsV=5 as Double
	local totalSteps=stepsU*stepsV

	
	
		--Point in triangle test
	function SameSide p1 p2 a b = dot (cross (b-a) (p1-a)) (cross (b-a) (p2-a))>=0
	function PointInTriangle a b c p = (SameSide p a b c) and (SameSide p b a c) and (SameSide p c a b)

		--Alternative Point in triangle test...returns returns point2 value, or false if point outside.
		--http://www.blackpawn.com/texts/pointinpoly/default.html
	fn pointInTriangle2 a b c thisPoint =
	(
		local v1 = c-a
		local v2 = b-a
		thisPoint.z=0 --only interested in the 2d plane
		local v3 = thisPoint-a

		local dot11 = dot v1 v1
		local dot12 = dot v1 v2
		local dot13 = dot v1 v3
		local dot22 = dot v2 v2
		local dot23 = dot v2 v3
		
		local div = 1 / (dot11 * dot22 - dot12 * dot12)
		local u = (dot22 * dot13 - dot12 * dot23) * div
		local v = (dot11 * dot23 - dot12 * dot13) * div

		if (u > 0) and (v > 0) and (u + v <= 1) then [u,v] else false	
	)
			--fast version, only valid if point really in triangle?
	fn buildBarycentricCoordinates a b c p =
	(	
		local v1 = p-a
		local v2 = p-b
		local v3 = p-c
		local a1= (length(cross v2 v3))/2
		local a2= (length(cross v3 v1))/2
		local a3= (length(cross v1 v2))/2
		local ta= a1+a2+a3
		[a1/ta, a2/ta, a3/ta]	
	)
		--Bobo´s long version
	fn buildBarycentricCoordinates2 v1 v2 v3 p=
	(
		local vector1 = p - v1		   --this is the vector from vertex 1 to the dummy
		local vector2 = p - v2		   --this is the vector from vertex 2 to the dummy
		local vector3 = p - v3		   --this is the vector from vertex 3 to the dummy

		--Calculate the cross product of the 3 vectors
		local theCross1 = (cross vector2 vector3)
		local theCross2 = (cross vector3 vector1)
		local theCross3 = (cross vector1 vector2)

		--calculate the face normal using the cross product of two edges
		local theNormal = normalize (cross (v2-v1) (v3-v1))

		--because the length of the cross product vector is equal to the area of the parallelogram
		--defined by the two operands, half of it is the area of the triangle!
		local area1 = (length theCross1 )/2  --this is the area of the first sub-triangle
		local area2 = (length theCross2 )/2  --this is the area of the second sub-triangle
		local area3 = (length theCross3 )/2  --this is the area of the third sub-triangle

		--calculate the angle of each cross product with the face normal
		local angle1 = acos ( dot ( normalize theCross1) theNormal )
		local angle2 = acos ( dot ( normalize theCross2) theNormal )
		local angle3 = acos ( dot ( normalize theCross3) theNormal )

		--if the angle is different from the other two, take its area as negative
		if angle1 != angle2 and angle1 != angle3 then area1 = -area1
		if angle2 != angle1 and angle2 != angle3 then area2 = -area2
		if angle3 != angle1 and angle3 != angle2 then area3 = -area3

		local fullArea = area1 + area2 + area3 --this is the full area of the triangle

		local b1 = area1 / fullArea  --this is the proportion of the first triangle vs. the full triangle
		local b2 = area2 / fullArea  --this is the proportion of the second triangle vs. the full triangle
		local b3 = area3 / fullArea  --this is the proportion of the third triangle vs. the full triangle

		[b1, b2, b3]  --Behold! Hand-made Barycentric coordinates!!!l
	)
	
		--build array with steps grid
	fn buildStepsArray stepsU stepsV=
	(
		local counteri1=0
		local counteri2=0
		local UVSearch=#()
		for i1=0 to 1 by (1/stepsU) do
		(
			counteri1+=1
			for i2=0 to 1 by (1/stepsV) do
			(
				counteri2+=1
				local result=[i1,i2,0]
				append UVSearch result
			)
		)
		UVSearch
	)
	UVSearch=buildStepsArray stepsU stepsV
	
		--collect all faces
	local meshFaces=meshObj.faces as bitarray
		--collect all map verts for each face
	local theMapFaces=for f in meshFaces collect meshop.getMapFace meshObj theChannel f
		--collect UV coords of each face/vertex
	local theFaceVertsUVCoords=for v in theMapFaces collect #(meshop.getMapVert meshObj theChannel v.x, meshop.getMapVert meshObj theChannel v.y, meshop.getMapVert meshObj theChannel v.z)

	vertexPositions=#()
	for UVCoord in UVSearch do
	(
			--collect all affected faces
		local hitFaces=for f in theFaceVertsUVCoords collect PointInTriangle f[1] f[2] f[3] UVCoord --Check if point is in triangle
		for f=1 to hitFaces.count where hitFaces[f]!=false do
		(
			a=theFaceVertsUVCoords[f][1]
			b=theFaceVertsUVCoords[f][2]
			c=theFaceVertsUVCoords[f][3]
			baryCoords = buildBarycentricCoordinates a b c UVCoord
			theFace = getFace meshObj f --gives a Point3 with 3 vertex indices
			v1=getVert meshObj theFace.x
			v2=getVert meshObj theFace.y
			v3=getVert meshObj theFace.z
			appendIfUnique vertexPositions (v1*baryCoords.x +  v2*baryCoords.y +  v3*baryCoords.z)
		)
	)
	
	for i in vertexPositions do
	(
		point pos:i
	)
)