Hey all.
so I've been attempting to improve my tablet skills as of late, and, well, this is my first time really trying to do a finished piece in Photoshop...
Obviously, this isn't anywhere near finished.. I just wanted to get an initial reaction...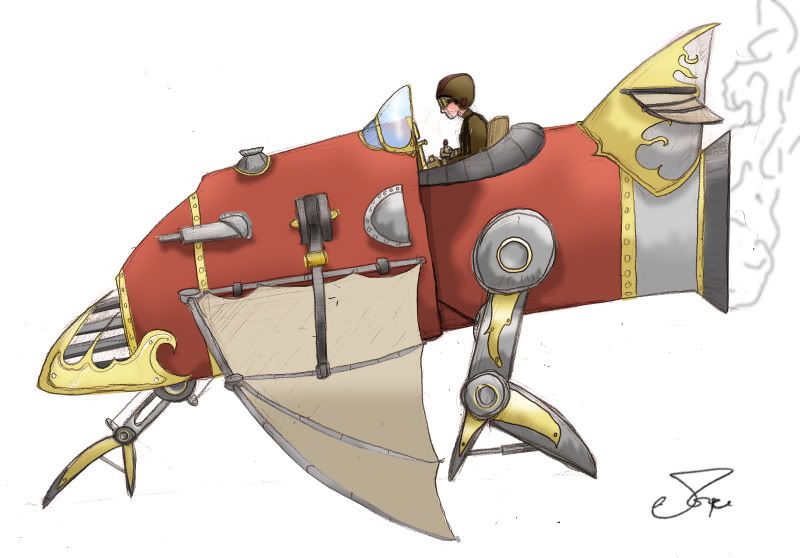 It's a fairly steampunk aesthetic, heh. Okay, scratch that, it's about as steampunky as they come. Hehehe.. I designed it to be launched from an airship from a really high distance, seeing as it has no form of active propulsion itself and therefore needs a nice high altitude to glide from. Those legs, when the fighter is in a landed position, build up huge tension and then snap backwards, "launching" the fighter forward about the same length of its body. When in the air, the fighter's wings activate, flapping incredibly rapidly and giving the glider a bit more lift and allowing it to achieve true flight.
That entire front section is a steam engine and boiler used to power the legs, the flapping of the wings and the machineguns in the front. That back "exhaust" is actually an enormous steampipe, acting as a vent for the huge amounts of steam being generated by the boiler. That little cap you see on the front top of the fighter is where the water would be piped in during docking and refueling.
That back fuselage and the wings are all fully collapsable, allowing many of these to be hung on racks inside the airships and deployed quickly, hence the name.