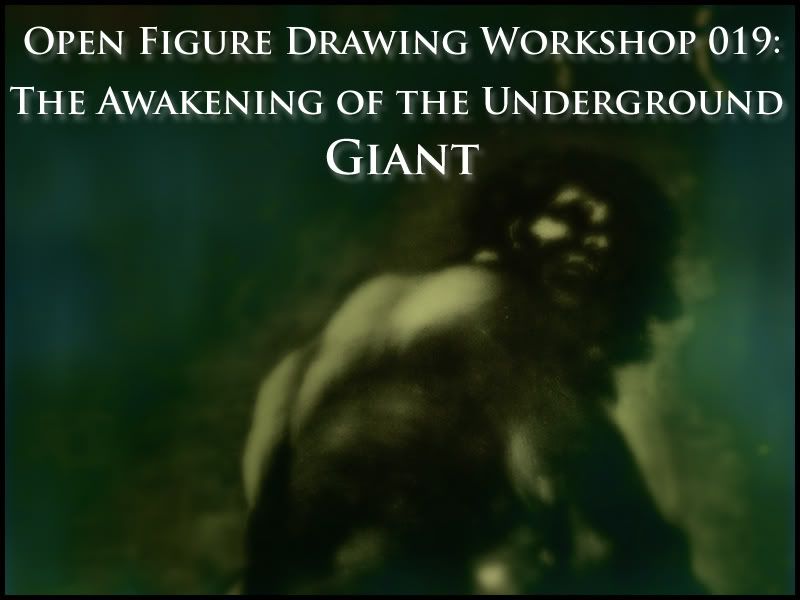 OFDW 019: Monday, August 21 - Tuesday, September 12th, 2006
Welcome to the NINETEENTH thread of the Open Figure Drawing Workshop!!!
This workshop is open to any medium and any style. Some informal moderation
will be gladly provided by Rebecca Kimmel ~ however, the purpose of the
Workshop is for Artists to interact with and informally critique one anotherís work.
For this OFDW, we are trying something new - a themed Workshop in which the topic is:
"The Awakening of the Underground Giant".

Guidelines for OFDW 019:


1. The theme is "The Awakening of the Underground Giant".

2. You have 1 MONTH in which to create a finished traditional or digital, drawing or painting, sculpture or 3D model and / or image based on this theme.

3. You may broadly interpret the word "Giant". A giant may be female or male, human or creature, young or old. The Giant, however, must be a living organism and not something inorganic. The goal is to practice one's skills in Anatomy and Figurative Art in a broadly interpreted manner.

4. You must place your interpretation of a Giant within an environment that tells a story.

5. While not required, it is suggested that you post concept sketches as well as WIP of your stages of work. WIP is strongly encouraged in the OFDWs!

6. The emphasis here is on storytelling. Set your figure in an environment, and think about your story first before sketching out your elements.

7. Please note that FINISHED WORK ONLY will be SPOTLIGHTED!

Note: This Workshop will last 4 weeks.
Reference Sources:

Please note that Reference may be used, but it is strongly encouraged that you interpret the reference which you use. You may use any reference that you wish, including your own photos, uncopyrighted reference, and photos from:

www.characterdesigns.com
> Photosets
http://justmeina.deviantart.com/gallery/?offset=0

Also, see this thread for Reference, though many sources bear copyright:
Reference for Anatomical and Figurative Art
RULES FOR THE THREADS
1. Work created here MUST be TASTEFUL, SINCERE, RESPECTFUL, and for the purpose of serious study of figurative art. Those who post silly, disrespectful, or tasteless work will have their posts deleted immediately and will no longer be allowed to post on this thread. Rebecca Kimmel reserves the right to determine which pieces are considered to be in poor taste and / or disrespectful in the OFDWs.
2. This Workshop will run for
1 MONTH.
3. There is NO LIMIT to the NUMBER of posts an artist may make. However, we ask that you post only your BEST WORK, even if it is considered unfinished.
4. Artists who post comments and critiques of other artists' work on this thread must be RESPECTFUL, POLITE, and offer CONSTRUCTIVE CRITICISM. Flaming will be NOT be tolerated, and constitutes dismissal from this and other threads.
5. I will be offering the occasional comments / critique ~ however, the main focus of the Open Figure Drawing Workshop threads should be on Group Critique and interaction.
6. ANY MEDIUM or STYLE may be used: Traditional or Digital Drawing or Painting, Sculpture, or 3D Model / Render.
7. Please limit the SIZE of your POSTS to 800 pixels WIDTH x Appropriate pixel LENGTH. No huge posts, please!
8. Have fun, enjoy, and create great art!
~~~
PLEASE NOTE: WIP (Work In Progress) images are an important part of the OFDWs and are encouraged.
Please DO post WIP
images as you work on your pieces.
PLEASE NOTE THAT TRACING IS NOT ALLOWED!
Tracing constitutes cheating on CGTalk, and traced work is not accepted into CGTalk's Galleries. Please freehand draw and paint. Use of a Grid is accepted.


EDIT: Please be sure to check out the best work from OFDW 018!

>>SPOTLIGHT: Best of OFDW 018<<


Good luck everyone!
Cheers,
~Rebeccak