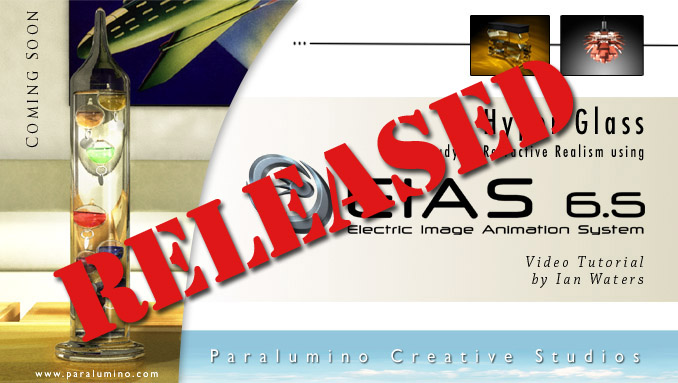 Paralumino Announces Hyper Glass
21 August 2006
Los Angeles, California
Paralumino Creative Studios announces the release of Ian Waters' Hyper Glass video tutorial. Pulling on his personal experience in architectural design, Ian walks the viewer through his techniques in obtaining photo-realistic glass. Join Ian as he provides his viewers with his personal tips and techniques on:
1. Modeling glass surfaces.
2. Environmental considerations for good reflectivity.
3. Recommend material settings.
4. Understanding Recursion.
5. Beneficial settings for speedy previews.
6. Anti-Aliasing tips.
7. Ambient Occlusion and GI.
Presented as a high quality 1024x690 pixel QT movie, viewers will have complete control over their viewing experience. Quality and readability are not sacrificed by reducing the resolution of the presentation down to video resolution.
Running Length: 23 minutes.
Format: 1024x690 / 12fps / Mpeg-4 High / QT
File Size: 130mb (Includes video, stills, and project files in a single .zip file)
Cost: $15.00
Sample:
http://www.paralumino.com/CG_Talk/HG_Low.mov
For more information, please visit the Paralumino Store.
http://www.paralumino.com