Welcome to the Anatomy Lesson Series: Body Part 1 - The Head. All are welcome to join in this 1 month long Workshop.


Anatomy Lesson Series: Body Part 1 - The Head

Draw/Paint/Sculpt 50 Heads in 1 Month!

EDIT: NOTE TO 3D MODELERS:
The goal for 3D Modelers is to do 10-15 heads in 1 month.


Wednesday, June 28, - Wednesday, July 26, 2006

Post your work here and/or to your own Personal Anatomy Thread!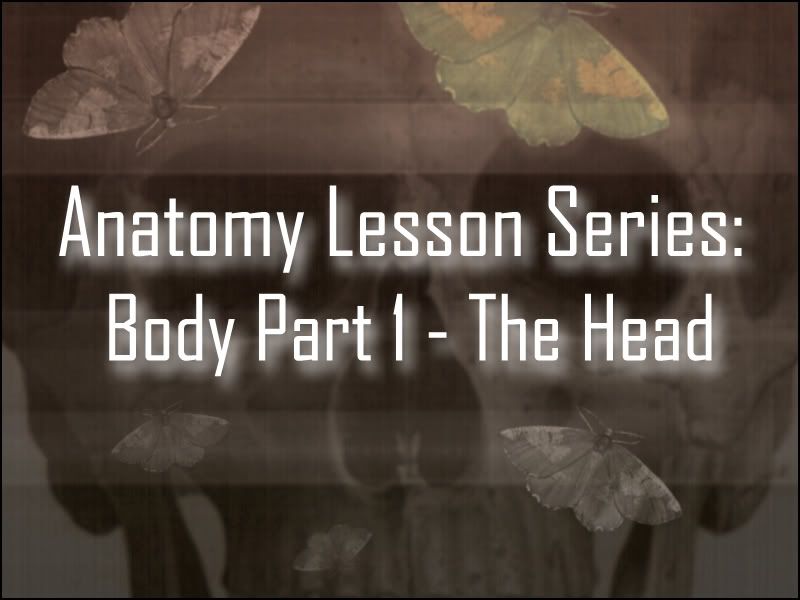 The goal of this Workshop is simple:
Draw, paint, (or sculpt) 50 heads in 1 month from the provided selection of 100 heads.

Post your work to this thread and / or to your own Personal Anatomy Thread.

RULES FOR THE THREADS

1. Photographs are the property of The Web Gallery of Art:
http://www.wga.hu/
2. The drawings created from the photo reference provided here MUST be TASTEFUL,SINCERE, RESPECTFUL, and for the purpose of serious study of the human figure. Those who post silly, disrespectful, or tasteless work will have their posts deleted immediately and will no longer be allowed to post on this thread. Rebecca Kimmel reserves the right to determine which drawings are considered to be in poor taste and / or disrespectful to the Reference used here in the Anatomy Lesson Series.
3.
Please only post a completed image (no WIP).
This will keep the number of posts to a manageable level.
4. Artists who post comments and critiques of other artists' work on this thread must be RESPECTFUL, POLITE, and offer CONSTRUCTIVE CRITICISM. Flaming will be NOT be tolerated, and constitutes dismissal from this and other threads.
5. I will be offering the occasional comments / critique ~ however, the main focus of the Anatomy Lesson Series threads should be on Group Critique and interaction.
6. ANY MEDIUM or STYLE may be used: Traditional or Digital Drawing or Painting, Gestural, Sketch, Finished Render, etc.
7. EDIT: 3D Artists who wish to use the reference for 3D models are free to do so. I just ask that you post your work here as well as in any 3D forum in which you post your work.
8.
Please limit the SIZE of your POSTS to 800 pixels WIDTH x Appropriate pixel LENGTH. No huge posts, please!


9. I encourage those of you who already have a Personal Anatomy Thread to post your work here as well as to your own Anatomy Thread. For those of you who wish to create your own Personal Anatomy Thread to document your progress, you are welcome to do so here (though this is not a requirement for participation in this Workshop):
Personal Anatomy & Sketchbook Threads
See this thread for information about creating a personal Anatomy Thread first:
FAQ: Can I Create My Own Anatomy Thread?
Links to all Personal Anatomy Threads can be found here:
Anatomy Threads of Individual Users
10. Have fun, enjoy, and create great art!
~~~
PLEASE NOTE!
The Drawings / Paintings / Sculptures created from these Reference images may be of any level of finish
~ quick sketches / gesture studies, fully drawn / painted renders, or even 3D renders. I only ask that you do your BEST work!
PLEASE NOTE: WIP (Work In Progress) images are less important here than your final pieces.
Please post limited WIP
unless you are working on a full painting or model.
ANY USE OF PAINTINGS WHICH ARE RELIGIOUS IN NATURE IS IN NO WAY AN ENDORSEMENT OF RELIGION OF ANY KIND.
TRACING IS NOT ALLOWED!
Tracing constitutes cheating on CGTalk, and traced work is not accepted into CGTalk's Galleries. Please freehand draw and paint. Use of a Grid is accepted.

EDIT: NOTE TO 3D MODELERS:
The goal for 3D Modelers is to do 10-15 heads in 1 month.

*PLEASE USE THE >>SEARCH FEATURE OF THE WEB GALLERY OF ART<< DATABASE TO LOCATE WORKS (TEXT TO USE FOR EACH IMAGE IS LISTED BELOW THUMBNAIL IMAGES).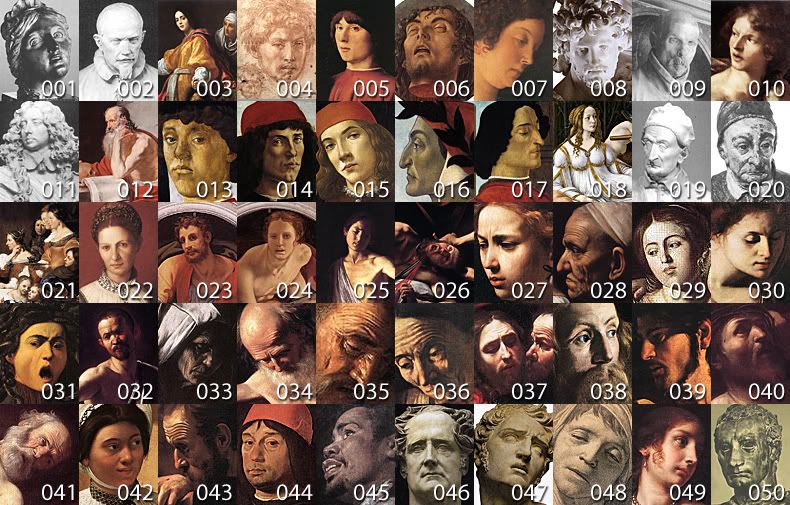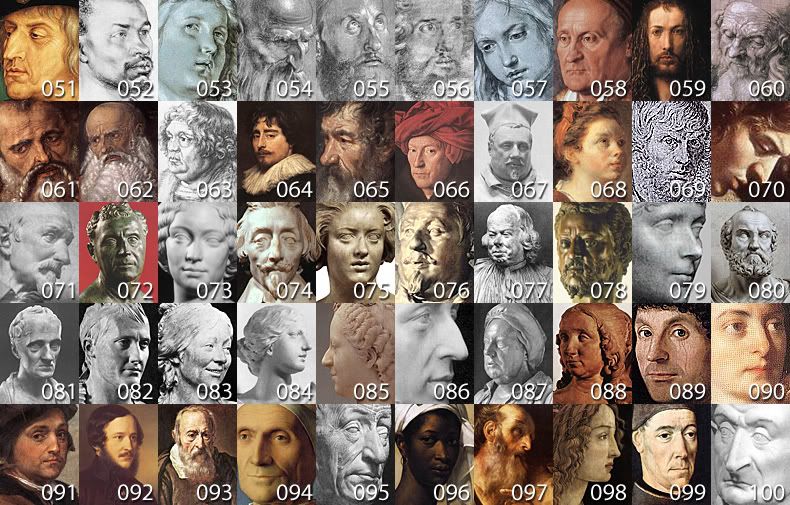 051* 052* 053* 054* 055* 056* 057* 058* 059* 060*
061* 062* 063* 064* 065* 066* 067* 068* 069* 070*
071* 072* 073* 074* 075* 076* 077* 078* 079* 080*

081* 082* 083* 084* 085* 086* 087* 088* 089* 090*

091* 092* 093* 094* 095* 096* 097* 098* 099* 100*
*PLEASE USE THE >>SEARCH FEATURE OF THE WEB GALLERY OF ART<< DATABASE TO LOCATE WORKS.

See tutorial in next post:
001:
ADAM, Lambert-Sigisbert
Head of 'Water'
1737
Terracotta
The Hermitage, St. Petersburg

002:
ALGARDI, Alessandro
Bust of Monsignor Antonio Cerri
c. 1637
Marble, height 85,5 cm
City Art Gallery, Manchester

003:
ALLORI, Cristofano
Judith with the Head of Holofernes
1613
Oil on canvas, 120,4 x 100,3 cm
Royal Collection, Windsor

004:
ANDREA DEL SARTO
Head of a Young Man
1520
Sanguine
Musée du Louvre, Paris

005:
ANTONELLO da Messina
Portrait of a Man
1474
Oil on wood, 32 x 26 cm
Staatliche Museen, Berlin

006:
BELLINI, Giovanni
Head of the Baptist
1464-68
Tempera 0n wood, diameter 28 cm
Musei Civici, Pesaro

007:
BELLINI, Giovanni
Sacred Conversation (detail)
c. 1490
Oil on wood
Gallerie dell'Accademia, Venice

008:
BERNINI, Gian Lorenzo
Aeneas, Anchises, and Ascanius
1618-19
Marble, height: 220 cm
Galleria Borghese, Rome

009:
BERNINI, Gian Lorenzo
Bust of Monsignor Pedro de Foix Montoya
c. 1621
Marble, life-size
Santa Maria di Monserrato, Rome

010:
BERNINI, Gian Lorenzo
David with the Head of Goliath
1625
Oil on canvas, 75 x 65,5 cm
Galleria Nazionale d'Arte Antica, Rome

011:
BERNINI, Gian Lorenzo
Francesco I d'Este
1650-51
Marble, height 107 cm
Galleria Estense, Modena

012:
BLANCHARD, Jacques
St Jerome
1632
Oil on canvas, 145,5 x 116 cm
Museum of Fine Arts, Budapest

013:
BOTTICELLI, Sandro
Portrait of a Man with a Medal of Cosimo the Elder
c. 1474
Tempera on panel, 57,5 x 44 cm
Galleria degli Uffizi, Florence

014:
BOTTICELLI, Sandro
Portrait of a Young Man
c. 1469
Tempera on panel, 51 x 33,7 cm
Galleria Palatina (Palazzo Pitti), Florence

015:
BOTTICELLI, Sandro
Portrait of a Young Man
1482-83
Tempera on panel, 41 x 31 cm
National Gallery of Art, Washington

016:
BOTTICELLI, Sandro
Portrait of Dante
c. 1495
Tempera on canvas, 54,7 x 47,5 cm
Private collection

017:
BOTTICELLI, Sandro
Portrait of Giuliano de' Medici
1476-77
Tempera on panel, 75,6 x 52,6 cm
National Gallery of Art, Washington

018:
BOTTICELLI, Sandro
Venus and Mars
c. 1483
Tempera on wood, 69 x 173,5 cm
National Gallery, London

019:
BRACCI, Pietro
Bust of Pope Benedict XIII
1762-73
Marble, height 76,4 cm
Thyssen-Bornemisza Collection, Madrid

020:
BRACCI, Pietro
Bust of Pope Benedict XIII
1724
Terracotta, height 41 cm
Palazzo Venezia, Rome

021:
BRAY, Jan de
The de Bray Family (The Banquet of Antony and Cleopatra)
1669
Oil on canvas, 230 x 180 cm
Currier Gallery of Art, Manchester, New Hampshire

022:
BRONZINO, Agnolo
Portrait of a Lady in Green
1530-32
Oil on panel, 76,7 x 65,4 cm
Royal Collection, Windsor

023:
BRONZINO, Agnolo
St Mark
c. 1525
Oil on wood
Cappella Capponi, Santa Felicità, Florence

024:
BRONZINO, Agnolo
St Matthew
c. 1525
Oil on wood
Cappella Capponi, Santa Felicità, Florence

025:
CARAVAGGIO
David
1609-0
Oil on canvas, 125 x 101 cm
Galleria Borghese, Rome

026:
CARAVAGGIO
Judith Beheading Holofernes
c. 1598
Oil on canvas, 145 x 195 cm
Galleria Nazionale d'Arte Antica, Rome

027:
CARAVAGGIO
Judith Beheading Holofernes (detail)
c. 1598
Oil on canvas
Galleria Nazionale d'Arte Antica, Rome

028:
CARAVAGGIO
Judith Beheading Holofernes (detail)
c. 1598
Oil on canvas
Galleria Nazionale d'Arte Antica, Rome

029:
CARAVAGGIO
Madonna del Rosario
1607
Oil on canvas, 364,5 x 249,5 cm
Kunsthistorisches Museum, Vienna

030:
CARAVAGGIO
Madonna Palafrenieri (detail)
1606
Oil on canvas, width of detail: 47 cm
Galleria Borghese, Rome

031:
CARAVAGGIO
Madonna Palafrenieri (detail)
1606
Oil on canvas, width of detail: 47 cm
Galleria Borghese, Rome

032:
CARAVAGGIO
Salome with the Head of St John the Baptist
c. 1607
Oil on canvas, 90,5 x 167 cm
National Gallery, London

033:
CARAVAGGIO
Salome with the Head of the Baptist
c. 1609
Oil on canvas, 116 x 140 cm
Palazzo Real, Madrid

034:
CARAVAGGIO
St Jerome
c. 1606
Oil on canvas, 112 x 157 cm
Galleria Borghese, Rome

035:
CARAVAGGIO
St Jerome
1607
Oil on canvas, 117 x 157 cm
St John Museum, La Valletta

036:
CARAVAGGIO
Supper at Emmaus (detail)
1606
Oil on canvas, width of detail: 20 cm
Pinacoteca di Brera, Milan

037:
CARAVAGGIO
Taking of Christ
c. 1598
Oil on canvas, 133,5 x 169,5 cm
National Gallery of Ireland, Dublin

038:
CARAVAGGIO
The Calling of Saint Matthew (detail)
1599-1600
Oil on canvas, width of detail: 30 cm
Contarelli Chapel, San Luigi dei Francesi, Rome

039:
CARAVAGGIO
The Calling of Saint Matthew (detail)
1599-1600
Oil on canvas
Contarelli Chapel, San Luigi dei Francesi, Rome

040:
CARAVAGGIO
The Crowning with Thorns
1602-03
Oil on canvas, 178 x 125 cm
Cassa di Risparmi, Prat

041:
CARAVAGGIO
The Crucifixion of Saint Peter
1600
Oil on canvas, 230 x 175 cm
Cerasi Chapel, Santa Maria del Popolo, Rome

042:
CARAVAGGIO
The Fortune Teller (detail)
1596-97
Oil on canvas, width of detail: 38 cm
Musée du Louvre, Paris

043:
CARAVAGGIO
The Incredulity of Saint Thomas
1601-02
Oil on canvas, 107 x 146 cm
Sanssouci, Potsdam

044:
COSTA, Lorenzo
Portrait of Giovanni Bentivoglio
c. 1492
Tempera on wood, 55 x 49 cm
Galleria degli Uffizi, Florence

045:
CRAYER, Gaspard de
Head Study of a Young Moor
-
Oil on canvas, 39,5 x 32,7 cm
Museum voor Schone Kunsten, Ghent

046:
DAVID d'Angers
Chateaubriand
1830
Plaster, height 60 cm
Private collection

047:
DAVID d'Angers
Sorrow
1811
Plaster, height 55 cm
Private collection

048:
DAVID, Jacques-Louis
Head of the Dead Marat
1793
Pen, black and brown ink, 270 x 210 mm
Musée National du Château, Versailles

049:
DOLCI, Carlo
Salome with the Head of St John the Baptist
1665-70
Oil on canvas, 122,6 x 96,5 cm
Royal Collection, Windsor

050:
DONATELLO
Equestrian Statue of Gattamelata (detail)
1447-50
Bronze, 340 x 390 cm
Piazza del Santo, Padua