Hey guys I wanted to share this tutorial with the cg talk audience. You can also see the full tutorial here since I know the forums can get a bit cramped (
http://coreyloving.com/Gallery/Tuto...eeWorkflow.html
)
Junk Tree Paradise Tutorial

By Corey Loving





Hi all! For this tutorial I used a wacom intuous 2 tablet, Photoshop CS4 , and Painter IX. Join me as I take you for a quick demonstration of my painting process for Junk Tree Paradise.






STEP 1.
-Start out with thumbnail sketches to rough out ideas.
-I choose the bottom one.
-The idea was "kids who survived the destruction of world war III find beauty and hope in the world."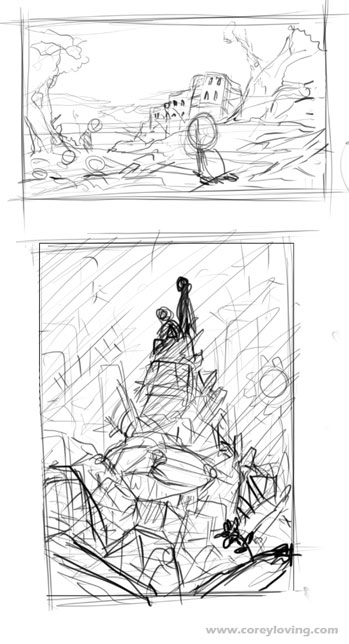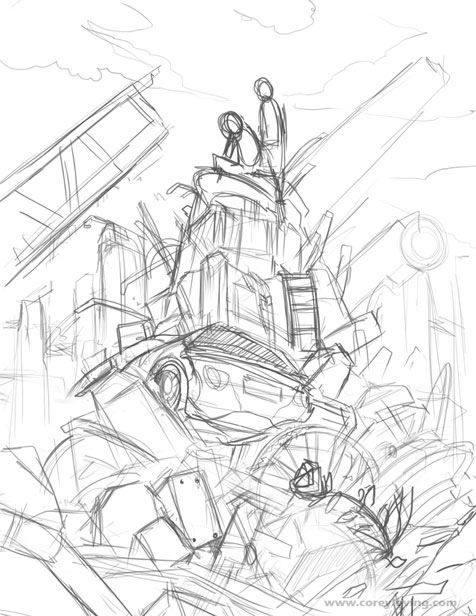 STEP 2.
-I add a new layer in photoshop underneath the drawing and begin coloring in details.
-Afterwards I make a 3rd layer on top of everything and begin to paint on top of the initial drawing and under color layers.
-Note ( I also add a overlayer layer on top of everything and paint in some violets, yellows, and blues to warm and saturate the picture more. Then I add a Photofilter set to Warmer Filter (85) to warm it even more. All these things gives the picture more life.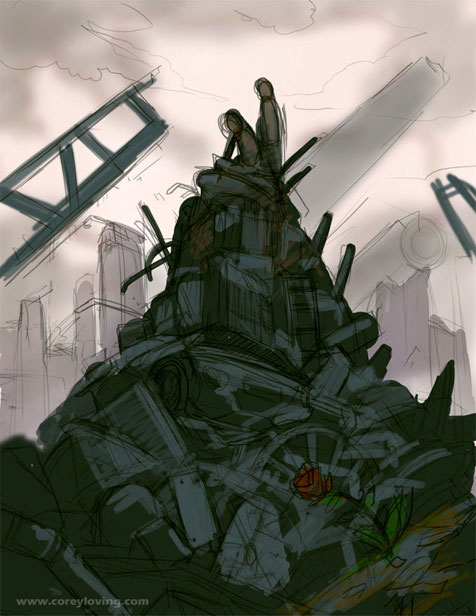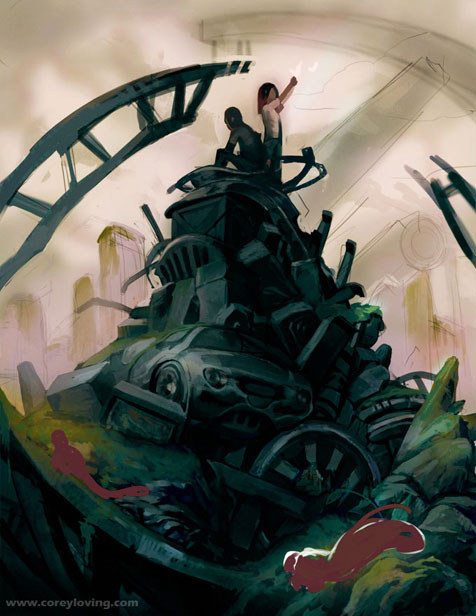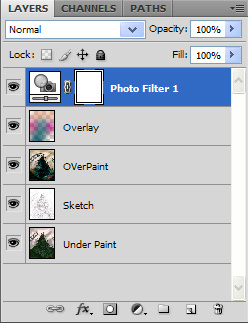 STEP 3.
I flatten the image and decided to stretch the canvas out more horizontally as my ideas begin to change. Every now and then I bring the picture into Painter and use the Round Camel Hair and Just Add Water Brush to add in details like the sky and the green ground. Then I jump back into photoshop and continue to paint.
-In Photoshop I used the default Hard Round Brush as well as the Oil Pastel Large brush. A little trick for painting texture into the plants with the Oil Pastel Large Brush is to set Color Dynamics setting on and turn up the Brightness Jitter a little. It'll give the impression of more detail than you really painted by hand.
-Also Im flipping the canvas constantly to make sure things are working right. It gives you a fresh look on the picture and clarifies any possible mistakes.