HCR Modeling #30 Pixar Tribute
PIXAR TRIBUTE- Winners!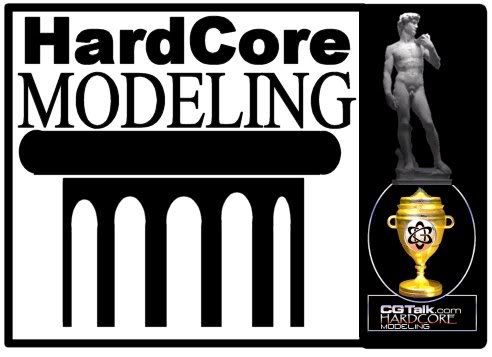 Ok here are the results:
Thanks to all who participated on our last mini challenge.
We will have a BIG challenge up in the next TWO WEEKS weeks
BEST MASHUP
Marcus Reed
WIP THREAD
http://forums.cgsociety.org/showthr...f=208&t=1000213
COMMENTS & DESCRIPTION
I have always wanted to try my hand at a stylized cartoon character, and really liked the mash up concept. I ended up using maya, zbrush and photoshop for the final piece. I really enjoyed working on this concept, and look forward to participating in more challenges in the future.
__________________
...more than meets the eye
BEST ENVIRONMENT
Sapna Mondol
<< WIP THREAD >>
Description :->
This is a complete kitchen of Gusteus, a great chef.A very clean and posh environment, all necessary euipments to make this kitchen more attractive. When i heard about Pixar tribute i decided to make Ratatouille kitchen, I love the set up and all Kitchen Euipments since i watch the movie. As I am learning modelling, I am inspired by this Kitchen and wanted to make pixar models,i am very much inspired by the fine details in this kitchen and wanted to do the same.It took around 20-25 days to complete this scene, daily i used to model a single prop.As this is modelling challenge so i put more concentration only in modelling and not done shading part.Each renders took 12 mins (approx).I did those models with all my passion and enjoyed this challenge
BEST DIROAMA :
Levan Lapachi
WIP THREAD
HMC #31 - Pixar Tribute - Buzz Lightyear (lapachi)
COMMENTS & DESCRIPTION
First of all, I'd like to thank again Roberto Ortiz and every person for such a beautiful challenge, it was fun and I kinda felt like being a part of that beautiful family of Pixar during this challenge.
From the very beginning, my goal was to recreate Buzz Light Year as close as possible to the real model, to capture the mood and characteristics of him. I've worked lots of hours on his proportions and I even had to remodel his body couple times for that. It was tough but I think I managed to model him just as he deserves (though I'm not 100% satisfied)
Anyways, it was fun being in challenge with you guys and Good Luck everybody !
Oh, and here is the link to my extra animation of Buzz. Hope you Enjoy it:
LINK TO THE ANIMATION
BEST WIP THREAD :
Samuel Cote
Russell is an overweight, 8-year old Wilderness Explorer.
Russell was missing the "Assisting the Elderly" Wilderness Patch, the last one to put him in the rank of Senior Wilderness Explorer.
HCM #31: Pixar Tribute: Russell from Up!
AND THE BIG ONE:


BEST MODEL & BEST CONCEPT ART INTERPRETATION:
Gilles RENAUT
"GilRen"
* Beauty render :







* Ortho-view :

* Wireframe-view ,

* Front ,Left,Right,Back,Bottom,Top

* WIP THREAD : HCM #31:Pixar Tribute - The Incredibles "Syndrome"


* Description : Syndrome "The Incredibles"

Here is "Syndrome" on which I had a great time to work. It was an very interesting excercice for me to interprete the references I took from the movie and internet to construct a neutral version of this fantastic character, an excellent occasion too to improve my hair method and to learn about. I've spend two hour/day during two month and I used Softimage for the whole modeling step, Zbrush for body's volume ajustments as well as Zsphere for the hair base construction, Photoshop for textures and MentalRay for render.
I've been very happy to participate among very talented artists at this harcore modeling challenge, this allowed me to learn and appreciate a little more the great work they are doing at Pixar.
Thank you one more time guys for all your comments and feedbacks during my WIP and Roberto Ortiz for setting up this challenge.


GiL.