I'm working on an interior shot using Mental ray in 3D Max Design 2013. Here is a reference image: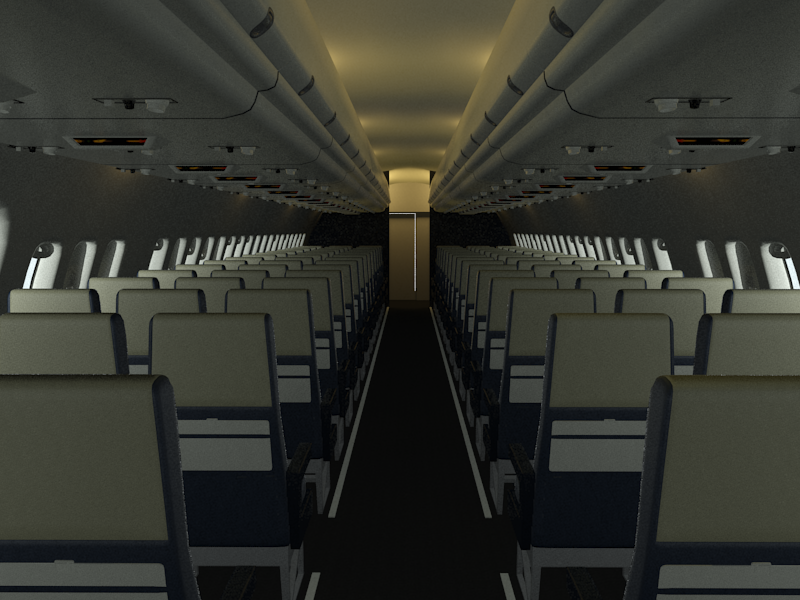 The issue I'm having is with the artifacting in the reflections. On the bottom of the overhead bins, and back of the seats, I'm getting this very grainy effect, also along the edge of the seats. Meanwhile, where lights are reflected I'm getting very spotty highlights. Additionally, it took 35 minutes to render this image, which I really need to cut down.
I've tried everything on every forum I've checked and nothing has solved the problem!!
Here are the specs for my scene/render:
Scene
-Scene to real world scale in cm
-A total of 33 photometric lights with 3 differrent settings
-2 mr sky portal lights with shadow samples set to 16
Renderer
-
Mental Ray
-1/16 sampling with Mitchell filter
-Max Trace Depth 8 / Reflections 6 / Refractions 8
FG/GI
-FG deafualt Draft settings
-Advanced tab: Noise Filtering set to High with Max Depth 6 / Reflections 4 / Refractions 6
-GI enabled with multiplier 1 / Max # photos per sample 500
All of my materials are Arch & Deisgn with glossy samples set to 32.
I know I need to up my FG settings, but even when using Medium and High presets I still get this artifacting.
Can anyone help me clean up my relfections and lower my render time?