Hi, I'd like to receive critiques for the piece that I'm working on, which is my rooster character.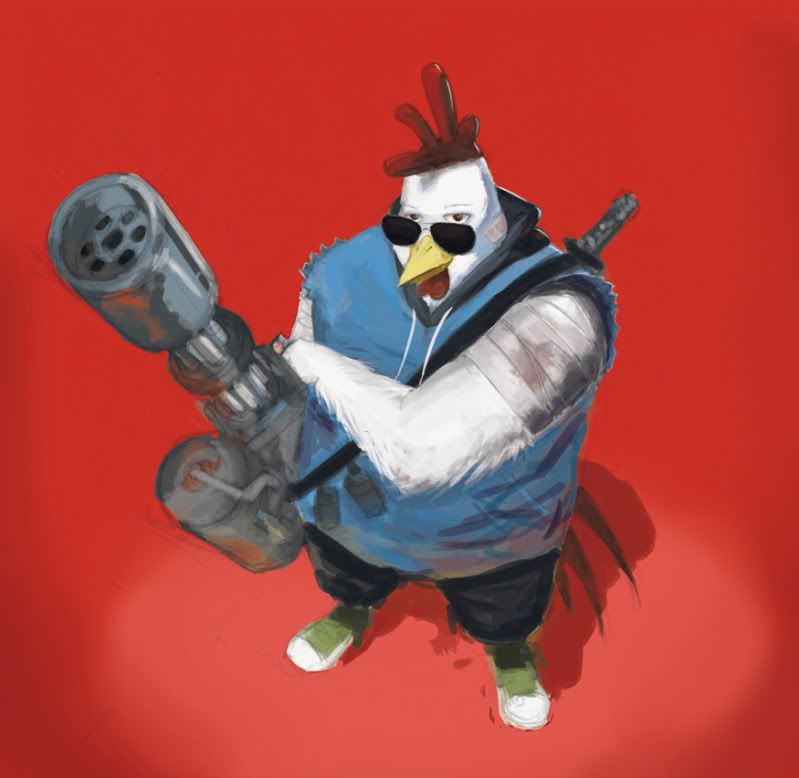 Since my work is in progress, the part that I'd like to work on are lighting, reflected lighting, back-lighting (or sharp highlights, I guess), and the use of brushes. I'm trying to avoid using airbrush tool as it can make my work look too digitized.
I'd be more than happy to hear your thoughts. Thank you.
About Rooster Jim
An ex-convict, Jim made his way out of prison when the military realized that he was strongly immune to alien biological weapons when the prison was attacked by colonizing aliens from outer space. Knowing that Jim could be an asset, the government decided to allow Jim to step outside as long as he is willing to follow his duty - to exterminate the aliens.
What made Jim go to prison is that he got frustrated living in a world of humans that identifies him as an "alien" or a "martian" as he's got a rooster complexion. Though he received a lot of support from other people, he couldn't help but to live a stable, peaceful life in prison, where he shuts himself off from the society and enjoys disciplining convicts physically and mentally (in other words, bullying). There are many other reasons why he ended up in prison too, but this is his biggest one.
The artwork portrays Jim with his casual outfit. He got his customized mini-gun from his Pig friend who loves collecting weapons. As for the katana, he got it as a gift from a human friend who taught him martial arts, but later passed away in the midst of an alien attack.
Other than that, Jim loves to shoot and collect guns for his hobby. Sometimes he is into programming and hacking as well. He might not get along with humans but when it comes to missions, Jim definitely knows what to do.