Hi Guys!
Finally I decided for the warlord class. After so many doubt.
I'm very happy to participate this contest..
GOOD LUCK FOR ALL!
Character Name
: Balog
Race
: Mutante
Class
: Warlord
Artifact Wepon
: Gauntlets
Artifact Power
: Earth / Rock
UPDATED! ___________

Balog is a creature that lives below us, and can be found in caves, galleries or docks. His past is obscure. Besides your sizes, they are very agiles and fast, principally in your own environment. Due to its way of life they are almost blind , and to overcome their own limitation he haves a special glasses with lenses that help to expand your vision.
Practilly they donít sleep, and with a metabolism extremely accelerated they need to eat all day, so are in constant hunt, or they can die if stay without food for a long period of time .
Itís a ruthless hunter, so Invokers likes to use Balog for hunt intruders and to find new wormholes. Balog server the invorkers because invokers gives him more powerfull
through a artifact created to control all earth and rocks..
A simple punch, for example, open roles to acelerate your locomotion inside earth, and to create craters and destroy big areas.
The rocks and earth serve him, respond to his command..
But he acting by instinct . So itís easy for fall in some traps created for Stalkers. Since there always a good reward for capture this creature.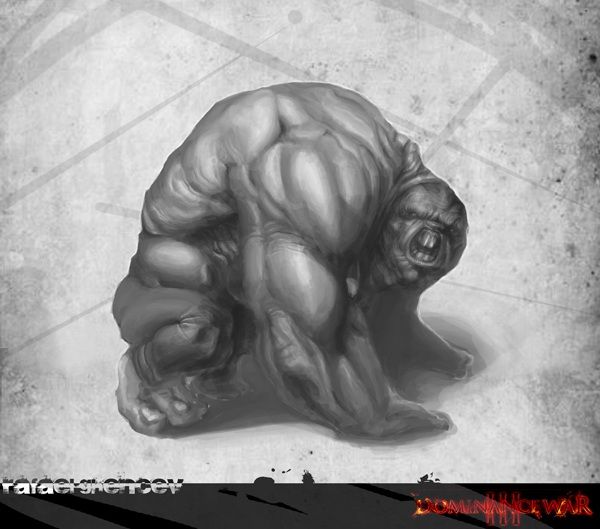 Now i'm working in the character's props like your gauntlets and your glasses.
Later more updates.
Rafael Ghencev ( RAFE)