RappaTools3.1
RappaTools3 is an advanced toolset that comes with a great variety of tools for the artist working in 3ds Max. The main focus is to speed up the workflow and to reduce the click count. It offers a wide variety of tools, everything from selection tools to rendering tools. It can help you through the entire process of creating a 3D art piece.
http://www.youtube.com/watch?v=aLmuU-OnSiI
What's new (1444 aka 3.1):
- Added Auto Connect Bridge.
- Added SmartQuads.
- Various interface changes.
- Usability and Speed improvements.
- Minor fixes and 3ds max 2014 support.
What's new (1425):
- Changed install path to userscripts.
- Speed improvements.
- IsolationMode now hides helpers.
- Added TimeSlider tool, see ViewportTools or macros.
- Fixed some bugs.
What's new (1406):
- New interface and new dialogs.
- Added gridDeform.
- Added Align/Scale/Rotate that contains 'Move to Point', 'Points Aling', 'Set Object Scale', 'Set Object Height'and 'Rotate Around Point'.
- Added Brushes (standard, move, smudge, inflate, pinch, relax, noise).
- Added to Similar select instances if SubObjectLevel = 0.
- Added 'SplineRefine' to Verts Tool.
- Added Silhouette View.
- Spline Bridge update.
Here are some of the benefits you get:
- Get 3 Interfaces, with over 300+ Macroscripts and 200+ features.
- Intuitive hotbox access for a faster workflow.
- With AutoConnectBridge and SmartQuads significantly increase the modeling speed.
- With gridDeform produce realistic looking animation and models.
- With ChamferOp produce great topology without pinching.
- Replace tedious tasks with one click of a button.
- Never struggle again with the ribbon.
- Have everything in one place for quick access.
- You will produce better results in less time.
- Free Updates and Support.
- Automatic update system.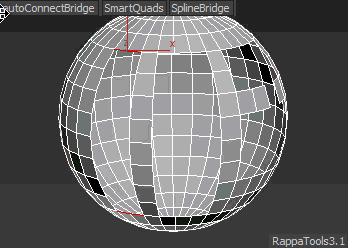 http://remusjuncu.com/rappatools/