UPDATE 2/13/13: I found the problem; my skeleton thumbs had somehow become warped and I had to go back and fix them. No troubles now, so feel free to close the topic.


Preface: I am effectively a complete CG newb and started teaching myself a few weeks ago with 3Ds Max 2013 and online tutorials. So, when giving an answer, please tell me how to find menus/commands because I'm still learning where most of them are. Thanks!
I'm working on my first character model/rig ever, and am up to the weight painting and testing the rig. For the most part it's going well, except for two current problems I've been unable to figure out how to fix.
The first: Sideways turning thumb, as seen here:
Default pose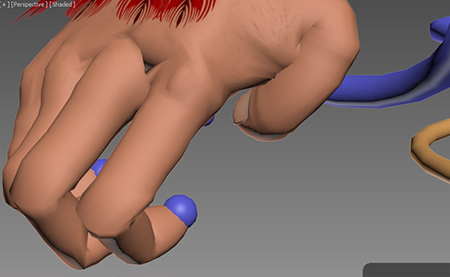 Sideways turn
I've Googled this issue and turned up some answers about joint limits, spherical limits and such to help make fingers bend realistically, but... Nothing in enough detail to show me how, specifically, to do that. Or is it perhaps another issue entirely? I've tried tweaking the mesh to make the thumb less turned in default, but the same problem occurs. Any help in the right direction would be much appreciated.
Problem 2: Mesh bending when the elbow's straight:
To this:
The skeleton is straight, but the arm is bending - and in the wrong direction, at that. Is this another issue about joint limits, or something related?
Thanks in advance for any answers!