Ok here are the results:

Thanks to all who participated on our last mini challenge.
We will have a BIG challenge up in the next TWO WEEKS weeks

BEST WIP : Robert Breen
Robert Breen
(Rbreen) on forum
Finished painting and adding materials. I placed the Mech in an action pose.
This is my final render.
HCR #39:Giant Robots/Giant Monsters : Buzz Meck
BEST DIORAMA:
Anders Ovesen
Artist : Anders Ovesen
I have modelled a Loader, the Queen from Aliens plus a little environment to fit them into. I am no lighting expert and I struggled getting the maps to show correctly, I hope to learn this better one day soon. Lots of other things learned along the way though so happy about that.
Software used : Zbrush & 3ds Max
Beauty Render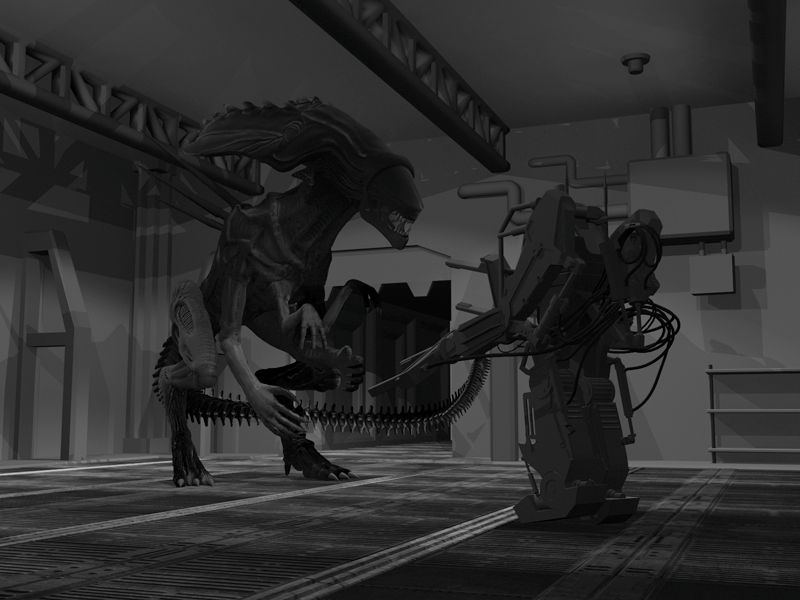 BEST RENDER:
Samuel Côté
Artist: Samuel Côté
Description: It's a Patlabor AV-98 ALphonse form the Patlabor animated show.


MOST ACCURATE CREATURE REPRESENTATION & BEST MODEL:
Emanuel Dasilva Luz

So here's my final images
I chose to make an original design of a kaiju that would fit in the movie pacifix rim
it took me 2 monts and I could only work on weekends approximatly 6 hours
so took me roughly around 48 hours to complete give or take


Artist: Emanuel Da Silva luz (elmoooo )

Thread: http://forums.cgsociety.org/showthr...569#post7713569


WIP Thread:HARDCORE MODELING:


Legacy post:
Welcome to the latest round of the HCR Modeling mini challenge.
I have to say that I am extremely pleased with the quality of the outstanding models that have been produced and the incredible amount of entries.
So please take a moment and VOTE for your favorite piece.
You may read the rules of the mini challenge here:
http://forums.cgsociety.org/showthr...f=208&t=1127096
-rules
Anyway, lets get on with the voting:
(The best model will be selected by an open vote for these categories)
Please vote for :
BEST WIP
Most Accurate Creature Representation
BEST DIORAMA
BEST RENDER
and
BEST MODEL
To vote, just post a REPLY to this thread with selections for each category.
NOTE TO ALL VOTERS:
The principal judging criteria to all voters should be
how well the model was sculpted.
The beauty render & the shading should NOT be the most important judging factors for the Best Overall Entry.
When judging keep in mind that Bump and Normal maps are acceptable modeling methods.
To view the entries Click the numbers besides their names
Please judge ALL the models to determine the best model
Here are the entries
(To view them, please click on the the name):
Good Luck!
-Roberto
Legacy post:
Please post:
ARTIST NAME
BEAUTY RENDER
HIREZ RENDER LINK (VOLUNTARY)
TURNTABLE ANIMATION (VOLUNTARY)
ORTHOGRAPHIC RENDERS
WIREFRAMES
WIP THREAD
COMMENTS & DESCRIPTION
Thanks,
-R