Hi, you guys seem to be the experts, and I would appreciate your opinions on this.
1) I am modeling this head, it is supposed to be a street child (sad looking, skinny, not caucasian -undefined non white race for the purpose of the artwork- about 10 year old boy). I have not added detail in lids, lips, etc., because I don't want to make the mesh more complex at this point. Is the general form of the face OK? I am pretty new at doing people, and basically would like to know if I am starting with the right foot here.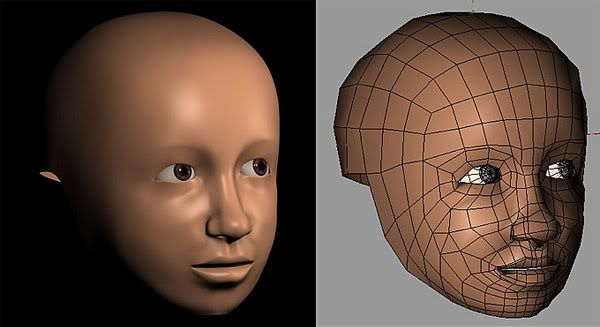 2) I will model a couple more humans (different ages) soon, and I am hoping to reuse this mesh. So I will add ears and neck and save this mesh as a generic mesh. Later, I intend to move points here and there and make an old lady, a fat guy, etc. NOT CARTOON like. Do you think this mesh is appropiate to to that? Any major changes needed?
3) I am curious if you know a good method or workflow or trick or whatever to model an "EXACT" face. Some time ago, I put a good front picture of the face of this lady in one viewport, a sede picture on the other, hoping that since I can do pretty exact copies of cars that way, I could do a good portray of the lady. I spent days and days moving point here and there and in the end what I had was a pretty good modelled lady (I think) but it was NOT the lady I wanted. How would you tackle this?
Thanks in advance for any thoughts
fer