Software used : Photoshop

Date : November 30, 2009
(Sorry for huge images guys. Cgtalk wont let me shrink them for some reason, you can view
original tutorial
here
, because I know how cramped up the forums can sometimes get. Now for the tutorial)
Caricatures are a popular art form and Photosphere has made the art of making caricatures a much easier process than traditional painting. For one, it's painless to manipulate a final look or multiple final looks. My personal favorite way to make caricatures in Photoshop is to paint the picture NORMAL first and then transform it into a caricature later. Why? Well I can manipulate the NORMAL version into MANY different looks easily if I want. If I started off with a warped caricature version first I would'nt be able to transform it to look like a NORMAL portrait or have many other pleasing variations as easily. The method we will be using is more flexible if you are just making a simple portrait caricature without the body.
Step 1.
Open your picture in Photoshop.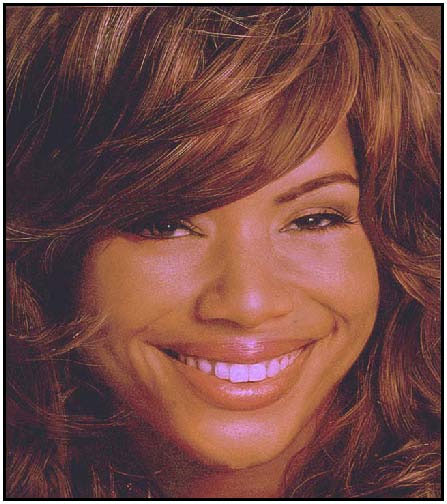 Step 2 - Dupilcate Your Image
Duplicate your Image onto a new layer by right clicking on the bottom layer and clicking Duplicate.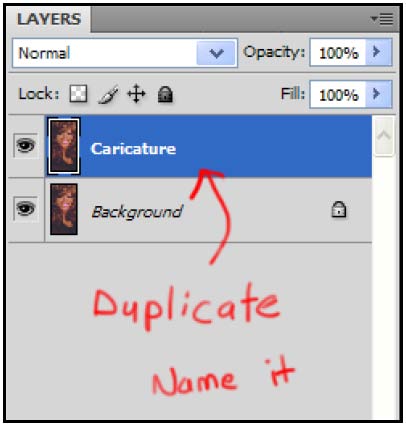 STEP 3 – Use Liquify
Go to Filters/Liquify to distort your portrait. Let's quickly go over the 4 most useful liquefy tools to use.


PUNKER TOOL
This tool is used to "Shrink" areas. I like to use it for reducting areas like the nose or eyes. Kind' a looks like she had a nose job doesn't it?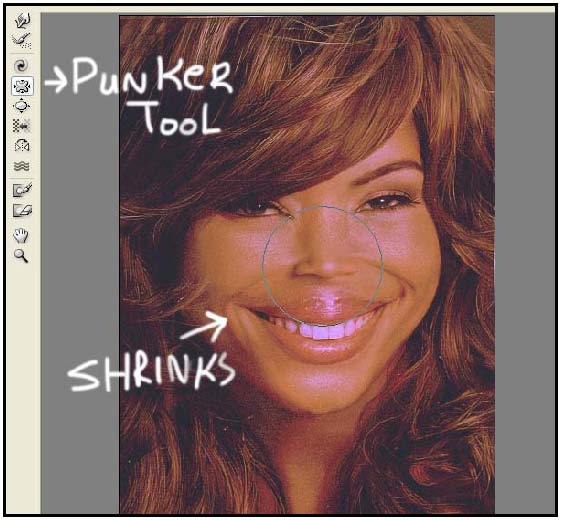 BLOAT TOOL
This tool is used to "ENLARGE" areas. It's the opposite of the Punker Tool. I like to use it for making bunny teeth, or is it beaver teeth? Hmmm…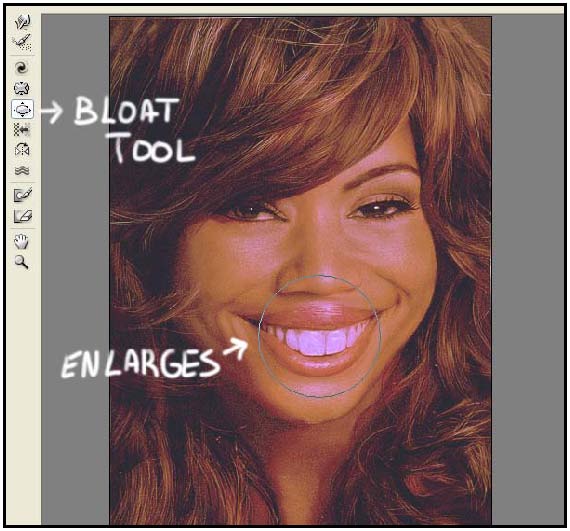 FORWARD WARP TOOL
This tool is used to "Pull or Stretch" areas. It's probably the most used tool in liquify.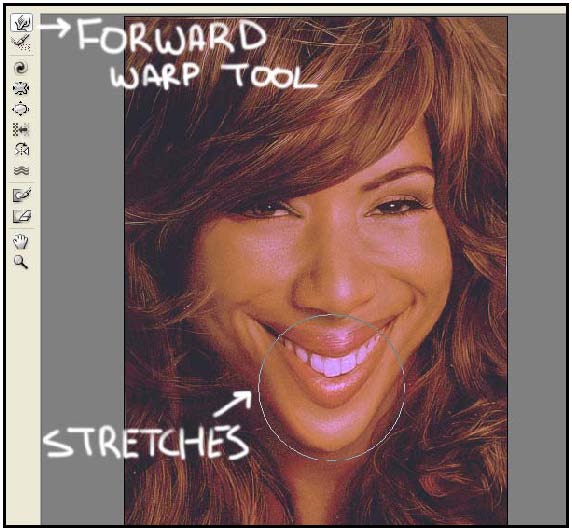 FREEZE MASK TOOL

Last but not least the Freeze Mask Tool. This is very helpful if you wish to avoid distorting certain areas. On the example above I paint a mask around the nose, eyes, and lips, and use the Forward Warp Tool to pull around the face to create the look of being overweight. It's all very fun to do.