Great start Audit! You're almost there already
DigitalSol, I'm really looking forward to seeing all the stages. I love how you build up the image!
Aedilhum : That's just beautiful. Awesome strokes! Oh and welcome
I'm new here too!.
RedSquirrel: Welcome too! You've done a great job so far.I really like the textures, what are you using?
pierceda: I like the sketchyness you have right now! Some more texture and you're set
Shawshank: Nice start :d Can't wait to see more.
Zhuzhu : :O You finished so soon! It is beautiful! The textures are great.
Rebeccak : Neat! I love how it is looking so far.
SaraD: Great going!
Zephyri: I'm speechless. The textures are spot on and the painting on the whole looks so perfect! Very very well done!
Maladie: Welcome!
Queensoul: Good job so far!
billcunningham: Oops, I missed you, and you were the first to post! The WIPs look great so far!
Elliepower: Nice start! I really like how you're handling the textures, they flow with the form.
I hope I didn't miss anyone else >.<
Anyway, here's my tiny update.Didn't do much, I got back from an exam and didn't want to look at any other face, haha. But then I couldn't stay away for too long, so I worked a bit on the face and the lace.I have a whole new level of respect for Rembrandt now.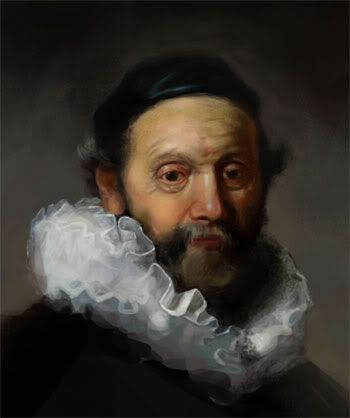 This OFDW is really about textures isn't it? I need to work on that aspect anyway. Haha, I think right now the reason why I'm drawing is so I can show you guys, this forum is so nice! I love it.I'm getting a little intimidated by all the great work here though.