NOW OPEN!!! OPEN FIGURE DRAWING WORKSHOP 005!!!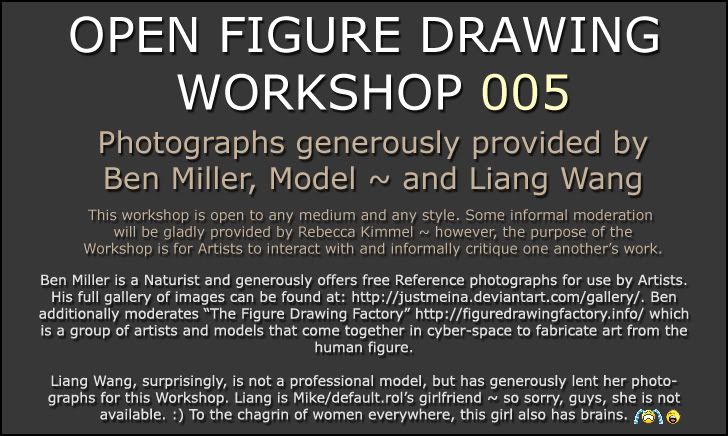 Welcome to the FIFTH thread of the Open Figure Drawing Workshop!!!

>>RULES FOR THE THREADS<<

1. Photographs are the property of Ben Miller and Liang Wang respectively and are copyrighted as such.
2. Photographs are
NOT
to be used for
ANY
other purpose apart from Figurative Drawing Reference for
this thread
on CGTalk.
3. The drawings created from the photo reference provided here
MUST
be
TASTEFUL, SINCERE, RESPECTFUL,
and for the purpose of serious study of the human figure. Those who post silly, disrespectful, or tasteless work will have their
posts deleted immediately

and will no longer be allowed to post on this thread. Ben Miller, Liang Wang, Rebecca Kimmel, and Roberto Ortiz reserve the right to determine which drawings are considered to be in poor taste and / or disrespectful to the model/s, who have generously agreed to allow their images to be used on the condition that they be used for the tasteful and
serious study of Figurative Art only.


4. There is
NO TIME LIMIT
for posting on this thread.
5. New threads containing new photographs will be posted on a bi-weekly basis, depending on the number of photographs available.
6. There is
NO LIMIT
to the
NUMBER
of posts an artist may make. However, we ask that you post only
your
BEST WORK,
even if it is considered unfinished.
7. Artists who post comments and critiques of other artists' work on this thread must be
RESPECTFUL, POLITE,
and offer
CONSTRUCTIVE CRITICISM.
Flaming
will be
NOT
be tolerated, and constitutes dismissal from this and other threads.
8. I will be offering the occasional comments / critique ~ however, the main focus of the Open Figure Drawing Workshop threads should be on Group Critique and interaction.
9.
ANY MEDIUM
or
STYLE
may be used: Traditional or Digital Drawing or Painting, Gestural, Sketch, Finished Render, etc.
10.
EDIT:
3D Artists
who wish to use the reference for 3D models are free to do so. I just ask that you post your work here as well as in any 3D forum in which you post your work.
11. Please limit the
SIZE
of your
POSTS
to
800 pixels WIDTH x Appropriate pixel LENGTH.
No huge posts, please!
12. Have fun, enjoy, and create great art!
LINKS to Photographs: WARNING: Nudity:
MODEL PHOTOGRAPH 1 ~ Ben Miller, Nude
MODEL PHOTOGRAPH 2 ~ Ben Miller, Nude
MODEL PHOTOGRAPH 3 ~ Liang Wang, Clothed

PLEASE NOTE: WIP (Work In Progress) images are an important part of the OFDWs and are encouraged. Please DO post WIP images as you work on your pieces.
Good luck!
~Rebeccak, Ben Miller, and Liang Wang